The Almsbury Ritual Part 1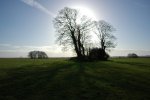 Wed, 24 Jun 2015
1 likes
'I am not doing anything for sodding Midsummer,' said Velvet.
I said, 'We could go up to the Barrow and be Druids.'
'Have you ever met a Druid?'
'No – '
'I met a whole tribe of Druids in Wales,' Velvet declared. 'They were living in tepees and Ma was shagging one of the leaders.  It rained all the time and the food was bloody terrible.  Midsummers Eve, we all had to stand outside the tepees and sing to the trees.  It was pissing down.  I got a filthy cough and they gave me bloody nettle mash to rub in my chest.  You think Vicks smells bad.  Try bloody nettle mash.'
I knew that if I had suggested we celebrate Midsummer by taking a submersible to the deepest reaches of the Mindanao Trench, Velvet would have been there and her Ma would have shagged one of the residents. 
'Well it's not going to piss down this year,' I said.  'Forecast is good.'
Velvet frowned.  'You can't trust the forecast.  My Ma was shagging one of those presenters from the Met Office once, and he told her they just made it up most of the time.'
'We could have a séance.'
Velvet looked at me with scorn.  'You don't believe all that rubbish?  My Ma – '
'Or not,' I said. 
We were on summer holiday from boarding school and Velvet had come to stay with me for a fortnight.  I'm not quite sure why we were friends.  I suppose I was impressed by her sort of famous family – her mother was sixties singing star Mandie and her father was sixties flash-in-the-pan actor Jeff Crane.  By the time Velvet and I were fourteen and at boarding school together,  Mandie was earning a living writing romances and a magazine agony column, and Jeff had last been seen searching for his inner Aborigine somewhere around Ayers Rock. 
My mother told me she had once had one of Mandie's records – 'That thing about the boy who died in the plane crash' -   but had trouble remembering Jeff until she finally placed him in a couple of Hammer horrors and something by Antonioni in which he appeared fleetingly nude.  Still, it was the nearest to fame we had.  It was a small school and there were no other famous people in it.  I was only there because a friend of my Great Aunt Pamela's owned it and GAP persuaded Mum it would be a good experience for me and I'd get a reduction on the fees.  GAP felt I was too isolated at home and in danger of going off the rails through boredom, and GAP was a persuasive woman.
Velvet and I did have some things in common.  Both of us were missing a father; mine lived in London with his second wife and twin sons and sent postal orders every birthday and Christmas.  He paid my school fees; as far as I'm aware he never asked Mum why she was sending me to boarding school or what he was getting for his money.  GAP said he would have worked out a way to make it tax deductible. 
Velvet and I also shared ugliness.  She was skinny with frizzy dark ginger hair, buck teeth and milk bottle glasses which hid shrewd, bright green eyes.  I was fat with limp mousy brown hair, a crooked nose and very large ears.  I considered her the uglier and I assume she felt the same about me.  Both of us secretly nurtured and took comfort from the comparison.
We were also clever.  I always came top in English and second in History, and she always came top in History and second in English.  I was always very anxious when the results came out.  For either of us to have usurped the other would have meant the end of the friendship, and we weren't spoilt for alternatives.
Velvet had arrived the previous week, on the train from London, with her smart suitcase and a hardback copy of Kafka's Metamorphosis tucked under her arm, title side out.
We said hello and then I said, 'We get the bus just up here.'
'Aren't there any taxis?  This case is bloody heavy.'
'There are a couple but they've just gone and we'll wait ages.'  I didn't want to say I only had money for two bus fares.  'I'll take the case for a bit.'
'Hasn't your Mum got a car?'
'No.  Anyway, she's at work.'
It was then I realised that we never talked much about home, when we were at school.  We spent most of our time planning what we would do on that glorious day when we both walked away with an armful of top grade A Levels and a place at the Oxbridge college of our choice.  Any conversation about school holidays came from her; Velvet's Ma had apparently given up on tepees and Met Office presenters, and Velvet seemed to spend most of her holidays wandering around London on her own, frequenting museums and galleries and having encounters with bizarre individuals, usually foreign.  My knowledge of London was confined to a couple of long ago visits to my father's house in Hampstead; he took me to London Zoo and the Tower and Hampton Court and we saw the Changing of the Guard.  Julia, his wife, took me shopping in Oxford Street but I wasn't very good at shopping and that wasn't repeated.  GAP took me to the Chelsea Flower Show once but we were on a day trip with Fallon's Coaches so that didn't count.
I craved an invitation to stay with Velvet in London, to wander as she wandered and meet the strange and interesting and dangerous individuals she met, but the invitation never came.  It was Mum who suggested she stayed with us for a fortnight at the beginning of the holidays.
We hoofed the suitcase up the road to the bus stop.  It was a chilly, overcast day.  Velvet only had a light anorak on and she was shivering in spite of the exertion.
'So this is your village,' she said, looking round.  Over the road Mrs Kelly was watering the window boxes of the Almsbury Arms Hotel and Public House, which she ran with her husband, and a bit further up Mr Lea, a tubby middle-aged man, was standing on the doorstep of Lea's Ironmongers smoking his pipe and contemplating the clouds.
'Yes,' I said.  'This is Almsbury.'
'All of it?'
'Pretty much.  You have to get the bus to Tideham for real excitement.  They've got a Marks and Spencer's there.'
We lived quarter of an hour by bus from the station, in what had been the Gate House to Wytham Hall.  Mum was what Lord Wytham called his Secretary and General Factotum; GAP went to school with Lady Wytham and introduced them.  When we got off the bus, at the gates to the Hall, it had just started to spit with rain.
'Here we are.'  I fished my key out of my pocket.
'Bloody hell,' said Velvet.  'It's like a doll's house.  It's even got turrets!'
The Gate House was built in imitation of the slab of Victorian Gothic that is Wytham Hall itself.  The turrets are purely decorative; Velvet's amusement diminished considerably when she found that she could touch both walls of her bedroom with her arms outstretched, and her wardrobe would be an alcove with a curtain across.  
I made us a pot of tea.  We sat in the kitchen, looking at the rain now lashing against our mullioned windows. 
'So,' said Velvet.  'What is there to do around here?'
At school, we never talked about what there was to do.  The time we had out of classes or organised activities was in itself something to do, and sitting around talking or reading, or walking in The Spinney, represented our freedom from the tyranny of the timetable and the teachers.  It hadn't occurred to me that, away from school, we would need to plan activities.
But I rose to the occasion and over the next week we went swimming in the baths at Tideham, went to see The Return of the Jedi, also at Tideham, and took a picnic up to Almsbury Hill, with a detour to look at the Almsbury Barrow ancient burial site.  Mum took us to the Peking Palace for a set banquet for three.  In between, there was lots of looking out at the rain, and lots of stories about what Velvet did during the holidays when she was in London.  Somehow these did not seem nearly as fascinating as they had within the confines of school, and in the sensible surroundings of our kitchen, they began to sound increasingly far-fetched.  I didn't really want to pursue that line of thought, but I did wonder how we would manage when we went back to school, now she had seen me for the boring country mouse I obviously was, and I had seen her for the prattling city shrew she seemed to be.  So, to lighten the mood, I suggested we should do something to celebrate Midsummer, the summer solstice, in two days' time.
I was cross with Velvet's dismissal of my idea.  I felt like suggesting she should pack up her smart suitcase and get the train back to London, but that was a step too far and instead, in a moment of madness, I said, 'Well we could just do the Almsbury Ritual.'
Velvet looked at me with a sour expression.  I had a feeling that she too had been contemplating a packed suitcase.  'What's the bloody Almsbury Ritual?'
'They do it up at the Barrow.  Well, they used to.  I think the last time it was done was in the sixties.'  At once, I realised my mistake.
'The Almsbury Ritual.'  Velvet frowned.  'Yes.  Now you say, I'm sure I've heard Ma mention it.  Must have been when she was shagging the bloody Druid.'
I looked at her.  The moment I had known was coming, but had refused to contemplate, was here.  My friend was exposed as a liar and a fraud and, as GAP would have put it, a prize bullshitter.
But I had an Almsbury Ritual to make up.  I had no time to bemoan the loss of innocence.  'Oh that's great, because I've never actually seen it done.  I've just read about it in books.  Did she say if you have to follow it to the letter or can you improvise?'
Velvet looked impatient.  'I can't bloody remember.  She said something about Almsbury Barrow and Midsummer.  That's all I know.'
I did my best to look thoughtful.  'Of course, it depends which of the rituals they were doing.  The Seeing one or the Conjuring one.  Did she say?'
'No.'
I shook my head.  'I think we should just do the Seeing One.  If we conjure something, we might not be able to control it.'
Velvet said, 'What do you see?  What do you conjure?'
I smiled.  'The future, of course!  With the Seeing ritual you can just look into the future.  With the Conjuring one, you can actually bring someone from the future here, right into the present.  Girls used to do it on Midsummer's Night, to see who they were going to marry.'
'I'm not going to get married,' said Velvet.  'I'll have lovers, but I'm not going to be anybody's bloody housewife.'
'Oh, me neither, but it doesn't have to be husbands.  You could see what college you're going to.  Or anything.  It depends what you ask.'
'It's bloody nonsense.'
'I wonder what your mother saw?'
'What?'
'She must have said something.  You'd remember, if you'd conjured someone from the future.  She must have said something.'
Velvet looked at me and in her clever green eyes, behind the milk bottle lenses, puzzlement was succeeded by a suspicious realisation.  My heart started to beat faster, and I had a prickling sensation all over my skin.  It was up to her.  If she decided to call me out on it, if she decided to acknowledge what she knew I knew, it was probably the end of our friendship.  We were not yet old enough to understand the truths that make up lies and bullshit.  Or their importance.
She sat back.  'I think they did the Conjuring one.  I remember now.  We were at lunch at Anouska Hempel's house and they were talking about somebody's Midsummer party, and Ma mentioned the Almsbury Ritual and how it made you see people from the future, standing right in front of you.  Anouska was very intrigued.  She said she heard Mick Jagger talk about something similar once.  You don't know if he ever came here, do you?'
I didn't know whether to laugh or cry, and did neither.  'He might have done.  It was a big thing in the sixties.'
Velvet laughed.  'Then let's bloody do it!  What do we have to have?'
'I'll need to check,' I said.  'There's…a book up in the library, at the Hall.  That's where I read about it.  I could go up this afternoon.'
'I'll come with you.'
'No.  I mean, Mum's a bit funny about me going up to the Hall without an invitation.  She doesn't want them to think she's taking advantage.'  That at least was true.  'I mean, Lord Wytham's fine with me just going into the library now and then.  But I don't know how he'd be about me taking someone else.'
The green eyes glittered, distorted behind the lenses.  She smiled.  'All right.  I'll wait here.  Will you be able to bring the book?'
'No.  I'm not allowed to take things out.  But I'll write it all down.  Make a list.'
'Great!'
That afternoon I walked up the drive towards the Hall, wondering what I was doing.  And why.  Fortunately the curved drive meant that the Hall's heavy wooden front door could not be seen from the Gate House, so unless she was following me (I kept glancing back), Velvet could not know that I detoured round the back of the house to the patch of rough grass and wildflowers behind what had been the stables and was now a row of four garages.  I stayed there for an hour and half, which I thought was enough time for me to have entered the Hall, asked permission to use the library (I didn't even know if the Hall had a library), exchanged some pleasantries with whoever was there, found the book, studied it carefully, and made a note of the required items.  These I carefully wrote on the sheet of paper I had brought with me.
'There's not a lot,' said Velvet, when she saw the list.  'No eye of toad or balls of stoat?  You could get all this at the Co-op.'
I mourned the failure of my imagination, and the idiocy that made me miss the opportunity of stopping the Almsbury Ritual in its tracks.
'It's not supposed to be witchcraft,' I said.  'It's just…folklore.  Just for ordinary people.  To see…things.'
'OK,' said Velvet cheerfully.  'Where are the instructions?'
'What?'
'When, where, all the rest.  At the moment all we've got is a bloody list of ingredients.'
'It has to be on the Barrow, at sunset on the solstice.'
'On the solstice?  On the actual 21st?  Not on Midsummer's Eve?'
'No,' I said firmly.  'This is nothing to do with Druids.'
Velvet shrugged and smiled.  'You're in charge.' 
Velvet was wrong.  We got honey and a box of matches from the Co-op, but we drew a blank with the garlic, the pomegranate and the figs, and had to go to the posh greengrocers. 
'There's not a lot to it, is there?' said Velvet.  'We could be making a rather odd cake.'
I'd spent some time working this out.  'The honey and the figs are for sweetness,' I explained, 'because what you want is to see your sweetheart, or in our case, something that is equally sweet to us, like a double first from Magdalen.  The garlic is for purity and clarity of vision, because garlic is a purifier of the blood.  The pomegranate is a female symbol – you know what they say about the inside of a pomegranate.  It's for the strength and vision of women.'
'Well done,' said Velvet, after a moment.  'It almost makes bloody sense.' 
'It's an ancient formula.'
'Of course,' said Velvet.  'I was forgetting.'
We hadn't yet worked out how we were going to explain to Mum why we would be leaving the Gate House at about half past nine on Midsummer's night in order to walk up to Almsbury Barrow.  Of course she wouldn't let us go wandering about the countryside in the twilight and then the dark.  It was the fall-back position for both of us.  We would be prevented from following our plan, and it wouldn't be our fault.