Castle Pillock 7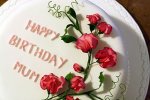 Wed, 09 Sep 2015
This week brought the Dowager Lady Pillock's birthday. 
I bought her a new radio.  The Dowager is fond of radio.  More precisely, she is fond of Radio 4.  Occasionally she ventures into the wilds of Radio 3, but only during the safety of the Proms season.  In her sheltered flat there is a radio in the bedroom, a radio in the bathroom, and until recently a rather nice wooden radio/record/cassette/CD player in the sitting room, that my dad got out of a magazine years ago.  It was a nice piece of kit, but when it failed all its parts turned out to be obsolete, and it was going to cost a small fortune to replace it.
'You can listen to the radio and CDs on the telly.  And you never used the record or cassette players anyway.'
'But I want to listen to it in the mornings.'
I scrutinised the ether for a clue. Nope.  
'I don't want to put the telly on in the mornings.  You know I don't watch telly in the mornings.'
'You're not putting the telly on.  You're putting the radio on.'
'So where's the radio bit on the telly?'
'No…you put the telly on, but it's on the radio.'
'I thought you said I'm not putting the telly on.'
'No, you're not.  It's a channel on the telly.'
'Do I or do I not have to switch on the television set?'
'Well, yes…'
In her sixties, the Dowager got a degree in Humanities from the Open University, which included a module on Philosophy.  She was particularly fond of Logic.
I conceded defeat and bought a rather nice Roberts DAB and fixed the five presets.  'I've put Radio 4 on 4, Radio 3 on 3, Radio 2 on 2, Radio 4 Extra on 5, and BBC Radio Local on 1.'
'Why have you put Radio Local on 1?'
'There wasn't anywhere else for it.'
'You know Radio Local gets on my nerves.  Why can't I have national Radio 1?'
'Because you are never going to listen to Radio 1.'
'I might do.'
I retuned.
We went for a meal to the pub that was my dad's favourite place in the universe.  He and the Dowager always went there for Sunday lunch.  It's all on one level and the staff used to reserve the table nearest the loo for him.  They supported him through walking sticks, a zimmer frame, a rollator and eventually a wheelchair.  They picked him up if he fell, including one occasion when they dismantled the lock on the loo door because he'd fallen inside with the bolt across.  We had his funeral repast there.  It's changed hands several times since and no-one knows us now, but it's still the Dowager's first choice. 
The Scion and the Princess dutifully turned up for the dinner.  The Scion has a new girlfriend.  He didn't bring her.  He's never mentioned her.  Officially, I don't know she exists.  The only intimation was a bloody great proclamation on Facebook: Scion Is In A Relationship With Herself. 
His sister chortled.  'Poor girl.'
'Would have been nice if he'd mentioned it.'
'He is mentioning it. It's all over Facebook.'
'That's no way to tell your mother you're In A Relationship.'
'It's the way it's done now.'
I try to envisage the scene.  'Darling, I – I really would like to take this to the next level.'
'Oh darling!  I'm so happy!'
'I'm out of battery.  You put it on.'
The Dowager was gratified that the grandchildren showed up.  She's always had this thing about her birthday being neglected.  It goes back to her childhood in an East End Catholic family kept in order by a formidable Irish grandmother.  Every year said grandmother used to remind the young Dowager how fortunate and blessed she was to share her birthday with the Virgin Mary.  Feeling somewhat overshadowed, on one occasion the Dowager asked how anyone actually knew it was the Virgin Mary's birthday, for which she got a clout round the ear with a many-ringed hand and the admonition that God – and the Virgin Mary – would hear her blasphemy and not forget.  The following year, the Dowager's thirteenth birthday dawned amid the wreckage from the opening raid of the London Blitz, the ultimate proof that God worked in mysterious ways and was not above using the Luftwaffe to prove a point.  The Dowager has been ambivalent about drawing attention to her birthday ever since.
Nowadays the kids regard the Dowager as something of a precious object, as she is the last grandparent standing.  We said goodbye to their paternal grandfather earlier this year.  He was a magnificently grumpy old man who was the dead spit of the actor David Niven.  He cultivated this in his younger days, with a line in cravats and cigarette holders, and a way of twinkling at women.  At some point early in their marriage he twinkled once too often and his wife sent him packing, but whatever else he was, he wasn't daft.  He gave up the twinkling (with the odd minor relapse) to secure the love of  his life, and after she died he waited, with bad grace and increasing impatience, for the day he could join her.  His favourite song was Fats Domino's Blueberry Hill, and at his funeral gathering (also in a pub) his five grandchildren stood with their arms round each other and led the rest of us in a rousing chorus.  Not one person there will ever be able to listen to that song again without breaking down completely.
The kids and I were recalling this, in an affectionate rather than morbid way, at the Dowager's birthday dinner.  She was intrigued to hear that both the 'other' grandparents had specifically requested humanist funerals. 
'I think it's splendid people can have them, if that's what they want.  Gets rid of a lot of the flim flam that's nothing to do with the person.  It's a very good idea.'
After the dinner we took the Dowager back to her flat, stayed for a nightcap, and then the Princess and I returned home, with the Scion departing for his shared house and, presumably, the hidden delights of Herself.  (I didn't ask.  I know when I'm not supposed to know.  Not that I want to know.  I know the world knows.  But I don't think I should know until he chooses to let me know.  Properly.  To my face.  Not the book's.)  A couple of hours later I was just going to bed when the phone rang.
'It's me.'
'Mum?  Are you all right?'
'You won't give me a humanist funeral, will you?'
'What?'
'You will get a proper priest?  And prayers.'
'I'll get whatever you want.'
'Doesn't have to be full mass.  Just some prayers. I'd be happier.  Just in case.  You know.'
Not quite so logical, then.  'Don't worry, Mum.  We'll have prayers.'
'Thank you.'
Just in case God's contemplating an alliance with ISIS this time, I suppose.