Halloween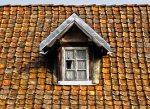 Sun, 04 Mar 2018
Halloween
Tonight's the night they come with their sharp knocks upon our door
And peer their little faces in our window.
Tonight's the night we drop the latch and swiftly climb our stairs
And let the cat sleep in our room
And pull the curtain so the light
Cannot escape and draw their eyes, up along our wall.
We lie in bed and breathe and know the cracks upon our wall
Are there although unseen.  Beyond our door
We hear the dust motes rise and settle, floating in no light.
How, if we locked our window,
Does a breeze stir through our room,
The music for a spider's dance of footsteps on our stairs?
When we were young it was our feet that danced upon the stairs.
We feared no whispering breeze.  There was no wall
Could hold our dreams.  We defied gravity.  There was no room
For doubt.  We rapped at every door
Gazed out through every window
And laughed at those who would not put themselves in to the light.
Careless, scornful, open days.  We wore other people light
As feathers round our necks.  We climbed the stairs
To reach the top, not to escape what lies below and peers in at the window
Of our fears.  Now we build our wall
Against them, lock the door
Of our regrets and grip our covers in the whispering darkness of our room.
Outside the children wait.  Their hope and doubt can have no room
In our house of certainties.  Naiveté shines a light
We cannot bear.  Experience-hungry hands claw at our door,
Voices croon along our stairs,
A sibilation cracks our wall.
'Help us build the time that you once had.  Unlock your window.
'You know us.  It is our breeze that whispers through your window,
Through your locks.  It breathes in the dry corners of your room
And prises at the ever crumbling cracks along your wall.
We offer you a light
To see your way downstairs.
Hear your locks rattle and bend.  We are here.  Open your door.'
The curtain flickers at the window, but there is no light
To draw their eyes up to our room.  No-one dances on our stairs.
No whisper cracks our wall.  In the dark the locks keep silent vigil on our door.