The Net Caster (Part Eight)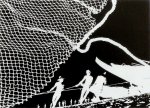 Wed, 24 Feb 2016
I stumbled along the corridor, feeble bio eyes still straining, trying to concentrate on my predicament and not picture the mass of people surging down the boulevard.  I had no idea where the explosion had come from. 
Wherever it had been, no-one had tried to get the AI out.
I arrived at a junction, with another white painted wall in front of me, and branches of the corridor going to right and left.  I stood and tried to get my bearings.  Going left, I thought, would probably take me into the part of the building fronting on to the boulevard.  I concentrated on listening rather than looking.  I could hear faint shouts and possibly screams, but they sounded like they were coming from outside.  I wondered what would have happened to any AI who had run out to see what was going on and possibly, in keeping with their programming, to help. 
I turned right, felt my way along the wall, and found another door handle. 
It opened on to light, and a dark-haired mahogany-skinned girl in a neat lavender coloured skirt suit, the black Tattoo clear on her forehead.
She looked at me for a few seconds.  'Can I help Sir?' she said, in full accordance with her programming as a leisure and hospitality AI.
I was in some sort of back office.   However quaint the outward appearance of the Culinary section might be, with its wrought iron and its manual door handles, the business end owed nothing to Earth nostalgia.  The girl was sitting in a moulded transparent pedseat, the kind found in smart offices in any of the systems.  The light from the integrated data system on the pedestal tinged her face green. 
It seemed a strange time to be doing a stock take.
I said, 'There's been an explosion.'
The girl nodded.  'I heard it.  Unified officers informed us they were expecting it.'  She scrutinised me.  'Has Sir been injured?'
'No.  I…I need to use this office.  For a short while.  I am…I work for the government.'
She continued to scrutinise.  'The Aphrodite Cluster administration?'
'No.  Unified.'
She said, 'Does Sir have identification?'
'The Unified officers insisted we left everything behind when we were evacuated.'
She looked at the black case.
I took a step towards her.  'I am an official of the Unified Inter-Systems Administration.  I need to contact the Administration about this incident. And why are you sitting here when you might be out helping those injured?'
She said,' The officers told us we must close down our establishment until further notice.  I am ensuring that our data systems are locked off securely.  My colleagues from the dining room are offering assistance if required.'
'Finish locking off and go,' I said.
She stood up.  'I regret that I cannot comply with Sir's request.'
I tried to sound authoritative.  'On what grounds?'
'On the grounds that Sir may have withheld facts which would affect the advisability of compliance.'
'What?'
'Sir is being sought by the Unified Police in connection with the explosion at the StarMotel in the Klondike system.  Sir did not disclose this information, therefore I cannot assess the advisability of compliance.'
I'd been wrong.  She was not leisure and hospitality.  She was an administrative program.  An administrative program which followed the news.
I asked, 'What's your name?'
'Crystal Forty-Two-Two-Nine'
'Crystal, I know you're only doing your job and what you see as your duty, and I don't want you to get into any trouble for doing that.  I shall make sure that all the relevant authorities know how well you have performed.  But I must insist – what are you doing?'
She had turned towards what was unmistakably a coms panel fixed to the wall behind her.  'I regret that I cannot comply with Sir's request without further advice.  I shall contact the authorities who will be able to inform me – '
'No,' I said.
She reached for the coms panel.
AI bodies are soft, and pliable, and feel just like any bio.  Their skin is smoother and more perfect, with a slightly artificial sheen that no-one has ever quite been able to rectify but, without the Irrevocable Tattoo, most of the time you would never know the difference.
I have never attacked a biological, but I would imagine the body would have felt like hers, would have slammed into the wall as hers did, the head rebounding from the blow and jolting forward, just like hers.  I imagine a bio would have put their hands on either side of their head, like she did, and swayed, and struggled to articulate, and then crumpled to the floor and lain with legs splayed and arms neatly at their sides, head resting on their shoulder at an impossible angle, eyes staring blank. 
But I was not a murderer, simply a thief, guilty only of depriving the rightful owner of the proper use and/or enjoyment of an Artificial Intelligence Unit.
I stepped away from her (Crystal Forty-Two-Two-Nine, just a product, just a collection of circuits and programs) and looked round the office.  The pedseat provided the only chair or surface.  Instead I sat down on the floor and placed the case in front of me.
In many ways I was in the ideal situation.  My trace would show that I had been in the Culinary section, but any net would be swamped by the mass of intermingled traces caused by the evacuation, and with luck they would assume, at least for a while, that I had continued with the others through the pretty archway and on to Delany Circus.  The authorities now had the StarMo, the assassination of an Agency official and an attempted massacre (possibly a successful massacre – I still had no idea) to deal with.  It would be obvious to them that whatever part they thought I had played, I had not acted alone.  They were not dealing with one greedy rogue Caster.  They would still be looking for me, urgently, but the search would now also include others, with fewer resources concentrated solely on me.
I began to shake.  I placed my hands on the case to try and stop the shaking, concentrate and steady my breathing.  The room seemed to ripple around me and the body (the non-functioning unit) slumped against the other wall to ripple with it.  The options of weeping and going to sleep vied for my attention.  I looked down at the case and saw every mark and scratch on it, every fold and wrinkle in my knuckles, every hair on my wrist, with absolute clarity and overwhelming fascination.  I would sit here, I would sit here and marvel at the structure of all things, including the desolation that was Crystal Forty-Two-Two-Nine, for ever.  I had no need to move.  Everything I wanted was here.
I needed to eat.
I looked at Crystal Forty-Two-Two-Nine and wondered if her colleagues were really out helping the injured.
Now that I knew I needed to eat, the desire overwhelmed me.  I crawled over to the door and listened. 
To be continued...