The Net Caster (Part Nine)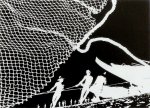 Fri, 26 Feb 2016
The building itself seemed to be silent.  I crawled along the corridor towards the smell of food.  The shouts from outside got louder, but there were no screams.  The whish of spyroblades was more insistent, now joined by the wails of ERVs.  This being the Aphrodite, the wails were tuneful – I was sure I recognised the short musical extract they were repeating into the night, but I just couldn't get a handle on it, though I stopped to concentrate and ran through a number of possibilities in my head…
I needed to eat and I needed to rest. 
I found the door to the kitchen.  Like the office, it owed nothing to nostalgia.  There were no scrubbed pots or bubbling casseroles, no neatly chopped vegetables or rolled pastry.  Packaged food portions were arranged neatly on work surfaces, ready for the Radiator.  I was grateful I had not stumbled into one of those Fetish places where they serve up synth animal flesh.  Neither my mind nor my stomach could have coped.
I listened again.  Still no sound from the building itself.  I hauled myself up and examined the packages.  Uncooked protein slabs did not appeal, but I broke open one of the pre-cooked vegetable packets and forced down some of those tiny round potatoettes you find all over the Cluster, accompanied by some cold vegetable soup and a bread roll.  It was disgusting, but my revulsion cut through the shock and fatigue and I found I was able to stand up without leaning on the work surface.  I opened a flask of water, took a long drink, and listened again. 
The shouts outside had receded.  It seemed that the explosion must have happened at another point on the boulevard.  I thought about the fear fuelled aggression of the young man who had walked with me, and wondered again about the AI from this place who had gone out to help.  There was no sign yet of anyone coming back for Crystal Forty-Two-Two-Nine.
I could at least start casting for Hamish.
I looked around, puzzled.  I raised both my hands in front of my face.  Something was wrong.  Something was not as it should be.
Both my hands were empty.  I had left my case in the back office.
I dropped the flask of water and ran back to the office, not stopping to listen, not thinking about what I would do if I met someone else. I reached the doorway, and stood.  And stared.
The black case, and Crystal Forty-Two-Two-Nine, were still lying where I had left them.  Nothing had changed.  Nothing had moved.  No-one, apparently had been there. 
The desire to weep nearly overcame me again.  I went back to the kitchen, collected two more flasks of water and three bread rolls, returned to the office and shut the door.  There was no lock.  I sat on the floor, my back to Crystal Forty-Two-Two-Nine, and ran my hands over the case.  I got up, turned round, and sat down again facing Crystal Forty-Two-Two-Nine and her blank eyes that were still looking.  I straightened the case in front of me, ran my fingertips over the ID panel and leant over to allow it to scan my retinas.  Its mechanical voice asked me a meaningless question about the weather in the Kraken system, and I replied with a dozen words, the number it needs to identify speech patterns. 
The case opened. 
The signal light started flashing immediately, a series of frantic green blinks, searching out the co-ordinates for my location.  It was madness to use the case, when I had no idea if it would even be possible to find Hamish.  But it was all I could do.  No matter how fast I ran, it was only a matter of time before they found me.  This, my craft, was all I had to put to any use at all.
Fortunately I was trying to find someone I already knew a lot about.  I knew Hamish's date of birth, his location of birth, the place where he grew up.  I had enough to access a basic historical trace.  I knew where he had recently been, and I knew a bit about other places he had visited and other journeys he had made over the years.  Enough to pull out the cross references and pick up any adjustments and peculiarities which had developed along the way. 
Picking up Hamish's past would be no problem.  But for all I knew he was now in a very distant system, hiding out in some remote spot away from any other bio's, and finding his present and his future might be impossible.
There is a moment, when a casting starts, when those popular misconceptions about a magical Net seem almost to be true.  When the solid screen becomes not solid, when the silver algorithms twinkle and crackle against deep green velvet, when the calculation columns sparkle like the impossible ice pillars which rear up from the plains of the Serenity.  Then the calculation columns become collections of numbers (seemingly impossible numbers, but numbers just the same), the screen settles back to solid, the green is the standard intersystem data backdrop.  And the caster is a government official waiting for a machine to do some very difficult sums.
I put in the requirements for Hamish's base trace.
If someone was already casting for Hamish, I might be able to lock on to their search and save myself a lot of time and trouble.  It would be risky and complicated, but it was possible.  It was one of the charges most frequently levelled against rogue or unauthorised casters.  I knew the theory of it.  I had never imagined I would be putting it to the test.
I checked the progress of the cast.  The silver columns on the green screen were not moving.
I thought, the bloody thing's broken.  It's taken a bang, from somewhere on this journey we've been on, and it's fucked.
But if so, the ID checks would almost certainly not have worked.  They're usually the first things to go, being external and therefore most vulnerable.
I reset the parameters of the cast.  The columns started moving again, sluggishly, and once more stopped.  Then the message appeared:
NO BIOLOGICAL TRACE FOUND FOR THIS INPUT.
Meaning:  this bio does not exist.     
Not, this input has been terminated.  Not, this input is untraceable.  This input does not have, and never has had, biological existence.
The signal light was blinking more steadily.  In a few moments it would complete its search, turn blue, stop blinking and start beaming my location to whoever was interested. 
I looked across at Crystal Forty-Two-Two-Nine.  She looked back.
'What the fuck, Crystal,' I said.
To be continued...