The Net Caster (Part Twenty)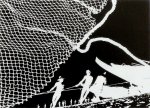 Fri, 15 Apr 2016
Hamish led us along a wide hallway.  As one who has spent his entire adult life commuting between systems and considers a three month lease on a dwelling as putting down roots, I am not used to gracious living.  But even I could tell that the wood panelling, floor coverings and wall tapestries were genuine, not synth.   My parents' home on Donwhe was considered comfortable and well appointed, but I had never seen anything like this. 
I wondered if it belonged to Hamish.
We passed a curving central staircase and went through an oval door which swept up almost to the ceiling.  The room was as magnificent as the hallway.  There was not a trace of blue stone; these walls were also wood panelled, and flagstones of Donwhe grey were just visible under vibrant red and gold floor coverings.  Only the Dune produces coverings like that, and their cost reflects the difficulty in commissioning and safely transporting them out of the System.  The full length octagonal windows looked out onto a formal rock garden of pale pink stone, inset with crystal clearer than any synth.  It is illegal to remove anything from the Crystal Mountains, but where there is money, there is a way.
'Drink?' said Hamish.  A bottle of Aphrodite whisky stood on a round table in the middle of the room.  He poured two glasses.  I looked round.  The government officials had not followed us in.
I accepted the glass and sniffed it. 
Hamish gave me a reproachful look.  'Not drugged.  How could you think it?'
I drank.  'Presumably I'm already drugged,' I said, 'as you are either dead or never existed at all.'
'I'm sorry,' he said.
'People died in that StarMo,' I said.
'Yes.'
'You murdered them.'
'No.  It was your friend Agatha who murdered them.  She set the explosives.'
'As she was instructed.'
'Yes.'
'Did you give her the instructions?'
'No.'
'Did she set the explosives on Cytherea?'
'Yes.'
'Is she murdering more biologicals at this very moment?'
'I don't know.  Probably.  I know there's a situation, with the Unified.'
I thought of how I had smiled at the memory of her turning her back in the StarMo bedroom.  'She's a killing machine.'
He looked surprised.  'Of course.  Didn't she tell you?'
'She told me.'
He poured more whisky into my glass.  'I think it's sometimes more difficult for us children of the Serenity.  AI are our security.  We are taught to trust AI above Bio's.  On most systems they don't have any problem thinking of AI as murderous thugs.'
'AI do exactly what we program them to do.'
'Of course.  They are killers or waiters or…administrators.  I hope you didn't lose any sleep over the one you destroyed on Cytherea.'
'Crystal,' I said.  'Forty-Two-Two-Nine.'
'Really?'
'How did you know about that?'
He smiled, put down his glass, and went to a solid, carved mahogany desk set against one of the tapestried walls.  From the central drawer he took a small black case.
He placed it on the round table.
After a moment I said, 'No wonder the Unified have come looking for me.  That's sending out a fucking beacon.'
'We've disabled it,' he said.
'We?  Only the Agency can disable that.'
'Yes,' he said.
'The Agency's in on this?'
'Not all of it.'
'Not all of the Agency or not all of this?'
'Both.'
'I've had enough of this, Hamish,' I said.  'You've torn my fucking life apart.  Thanks to you I'm wanted for murder and facing the death penalty in all systems except this one, except living in this one is a fucking death penalty in itself.  Everything that ever made any sense in my life was in that case, and now I daren't even open it.  I'll never see another image of my children, they won't even get my Killed On Active Service pension.  Why didn't you just blow me up with the rest of the StarMo?'
'I didn't want to,' he said.
'Don't you fucking dare,' I said.  'Don't you dare mention Delany, or Junior Academy, or any other fucking emotionally blackmailing piece of crap.  Or I think I might just kill you now, Hamish, just take that bottle and smash it over your head and slit your fucking throat and your friends out there can feed me to Agatha.'
'I didn't want to,' he said, 'because you're one of the best Net Casters in the Agency or anywhere else and we could use you.'
'Don't you think you've already had full use of me?'
'Believe me,' he said.  'We haven't even started.'
I finished my whisky and held my glass out for more.  He obliged.  I walked over to the window and looked at the illegal crystal sparkling in the clear white light.  'Is this your place?'
'No.  Of course not.  What makes you think I could afford somewhere like this?'
'You could afford to buy a StarMo for the sole purpose of blowing it up.  Or did someone else foot that bill?'
'No,' he said.  'I bought the StarMo in good faith.  I had no idea what the plan was until Agatha showed up a few weeks after we opened.'
 'But you knew there was a plan?'
'Yes.'
'Whose plan?  Whose plan, Hamish?'
'We need them to close down the Net programme.'
'We?'
He sighed.  'We need them to close it down because we want to use the equipment, and the Casters, to find something worth finding.'
I thought of the 'housekeeper' back on Cytherea.  'Alien life?'
'Yes.'
'Your friend on Cytherea told me the Agency is doing that anyway.'
'But they're suppressing the findings.
'They've found something?'
'We think so.'  He joined me at the window.  'The surplus traces sent back by Casters are now only being handled by certain analysts.  None of ours can get near it.'
'Yours?  You have people in the Agency?'
'In the Agency.  In the field.  In each of the individual System assemblies.  In the Unified Assembly.'
'Just so you can look for alien life?'
He sounded exasperated.  'It isn't just alien life.  Can't you see what it would mean?'
'That woman on Cytherea, she talked a lot of crap about identifying the Other.'
He said, 'Philosophy never was your subject, was it?  Give you a set of algorithms to play with, a calculation to work out, a defined goal, and you were happy.  Still are.'
'Last time I checked, I didn't major in murder, either.'
He sighed.  'I wanted Agatha to just kill that idiot of a politician and have done with it.  I understood that was the plan.  But then she told me they wanted a full scale catastrophe.  Something to precipitate action.'
'What action?'
'I did want to get them out.  The others.  I did argue for that.  I did try and find a way it could be done.'
'There was a time I might have believed you.'
With sudden anger he said, 'It was me who persuaded them you'd be a greater liability to us dead than alive.  Me who pointed out that a murdered Net Caster is a hero, a credit to his profession, a noble profession it would be even harder to shut down.'
'I'm glad you didn't let personal sentiment cloud your judgement,' I said.
'We'd never have let you get caught.'
'Really?  According to your housekeeping friend, my trial would be another nail in the coffin of the Net programme.'
'If we'd really wanted you caught, the Unified would have been waiting for you the moment you disembarked at Cytherea.'
I looked out at the garden.  'Why did you kill the woman in the Kraken?'
'We didn't.'
I turned to face him.  'Agatha doing a bit of subcontracting on the side?'
'Did it look like a professional job?  An assassin AI is a sophisticated bit of kit.  It doesn't just murder someone and stand around waiting to be caught.  Most Bio's still believe in the safeguards, the laws of robotics garbage, because before that woman was slaughtered in front of her entire family, no-one had heard of an AI killing a Bio.  Do you know what happened to the AI who killed her?'
I shook my head.
'Well, they'll never work again.  No-one would take the risk that the reprogramming could never be completely erased.  You think the government can afford to waste expensive AI units like that?'
'So who did the programming?'
'Any technician with half a brain cell could do it.  The question you want is why did they do it.'
'Why did they do it?' I asked.
There were footsteps behind me. 
To be continued...