The Net Caster (Part Twenty-One)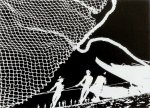 Mon, 18 Apr 2016
The older of the government officials was standing by the door.  'The Unified have neutralised the AI unit.  They'll be trying to run off any information she has.  They may try to reprogram her.'
'Agatha?' I asked
Hamish nodded.  'They won't get anything out of her.'
'She'll hardly have a choice,' I said.  'They'll just have to access her main circuits – '
'And then she'll self-destruct,' he said.  'It's built in to all the assassin AI.   They self-destruct if anyone tries reprogramming without the right codes.' 
'Right,' I said.  'Not really so different from any other AI then.'
'It is inconvenient,' said Hamish.  'She was a very efficient unit.  And expensive. And now the Unified will be sure you're on Hannat, and that someone thought you were worth protecting.  Do we know what happened?' 
The government officer said, 'The Healing Centre isn't as secure as we thought.  Someone from there contacted the local Unified.  They were waiting when she got back – 'he nodded at me, ' – for him rather than her.  There were a number of them.'
'Do we know who contacted the Unified?'
'Probably one of the nurses.'
I thought of the kind male bio who had given me a bath.
'Don't worry,' said Hamish.  'They won't find you here.'
'You're very sure of that,' I said.
'We need to move downstairs,' said the government official.  'Just in case.'
Hamish nodded.  'Let everyone know.  Tell them they've got half an hour to get here before we seal off.'
The government official nodded back and went out through the sweeping oval door.
I said, 'Tell me now.  No more mysteries, Hamish.'
'There won't be,' he said, 'once we're downstairs.  Then even if they manage to trace you to the house, they'll never find you.'
'Who is the everyone else?
'Half an hour,' he said.  'You'll know everything then.'  He grinned.  'On the soul of – '
Hamish is the taller of us by some way, so it was only his surprise at my action that enabled me to catch him off guard, grab the collar of his gown with both my hands, and force him to retreat several steps so that he was bent back over the round table.
I looked down into his face.  The surprise was fading, being replaced by puzzlement.  But no fear.  Infuriated, I lowered my face close to his and spat the words at him.  'You don't get it, do you?  You don't fucking get it.  This isn't one of your little manoeuvres, Hamish, to leave us all standing in your wake, chuckling with admiration.  People are dead.  Agatha is destroyed.  I am destroyed.'
'You think I wanted that?'
'Yes, Hamish, I think you wanted that.  The only question, as you yourself say, is why.  So no soul of Delany.  None of your self-satisfied smirks. When we go down these stairs of yours, I want answers.  From you, and from whoever else is coming to join us.'
'You'll get them,' he said.
I loosened my grip and stepped back from him.  'Remember, I've got nothing left to lose.  There's nothing more you can threaten me with, nothing more you can take away from me.'
He pushed himself up from the table and adjusted his gown.  'You've still got your life.' 
'By a thread.'
He said, 'You haven't asked about your sister.'
'Fuck you,' I said.
'She's fine,' he said.  'Still in the Dune, still with the Returners, the Unified paid her a visit to see if she knew where you were.  Must have come as a bit of a shock.  She was always supposed to be the rebel.'
'Is that a threat, Hamish?'
'Of course not,' he said.  'Just thought you'd like to know we're keeping an eye on what's left of your family.'
He led me to the central staircase.  There was no flight going down.
'I thought you said – '
'Just do as you're fucking told,' he said. He started up the stairs without looking back.
We reached a galleried landing.  The clear light from outside was filtered by a series of coloured squares in the large window overlooking the front rock garden and the path down to the transitway.  Rainbows danced on the wall tapestries, and I wondered if the window too was enhanced with forbidden crystal.  I looked at the handles on the heavy wooden doors leading off the gallery, and remembered the Pleasure Quarter, and Crystal Forty-Two-Two-Nine, and Agatha appearing out of the darkness, holding up her etched wrist in the light of the street lamp. 
And the Bios, of course.  The Bios who died in the explosion Agatha created.
Hamish opened one of the doors. 'In here.'
He closed the door behind us.  It was a small room.  The wood panels were simple, with no tapestries, and the flagstones were bare.  There was a small round bed set on a low pink stone plinth, a synth wood clothes cupboard and a smaller cabinet, just the right size for AI charging cables.  An old fashioned square cable input was set into the plinth under the bed.  Service AI's quarters.
Hamish took a small oval pendant out of the pocket of his gown, and pointed it at the bed.  The entire unit slid to one side, and underneath was a round hole the same diameter as the bed itself. 
'You are fucking kidding me, Hamish.'
'It's a transport pod to the chamber downstairs.  There are two on this floor.  There's no access to the chamber from the ground floor.  It's more secure.  You wouldn't think to come upstairs to go down.'
'Unless maybe your little set up isn't any more secure than the Healing Centre.'
He held up the oval pendant and said, 'You need one of these to open it.  There's only one other, and it's secure.'
A series of black ladder rails was fixed to the side of the hole. Hamish descended, and after a moment I followed.  The pod was uncomfortably small.  Hamish and I stood chest to chest, my eyes about level with his chin. 
I said, 'How many of your friends have got to come down in this?'
'The other one's bigger.  You can get four in there.'
He pressed a button on the shell of the pod and the circle of light over our heads began to recede.  Hamish held the oval pendant up and the plinth began to move across the hole.  In a few seconds we were in total darkness. 
There was nothing to confirm we were still moving.  Our breathing was the only challenge to the silence.  I put my hand on the shell; it was smooth and cool and felt metallic, but there was no vibration.  For one moment I thought I was alone, and stopped my own breathing so I could hear Hamish's.  He was still there; I could smell the scents of his skin, his clothes and his breath, and if I looked up I could see a faint gleam in the darkness I took to be his eyes.  I looked down again.  I parted my lips and took a breath to speak, and then didn't. 
He moved.  I tensed, but then a sliver of dim light penetrated the pod, getting broader as, I realised, the shell retracted.
'After you,' said Hamish.
​To be continued...