Checking In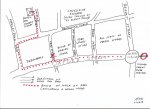 Fri, 02 Feb 2018
This is the first in a series of short pieces that I have been thinking about doing about various walks I have taken in London and around different parts of the country.  It is a tester.
+++++++++++++++++++++
The walk from Oxford Circus to the hotel in Welbeck took place in cold rain from which there was no shelter even under the canopies of the large shops fronting on to Oxford Street.  It was not an evening for lingering or for that matter 'haunting' the streets of London even more so with a small suitcase in tow. 
We had been given directions by a member of staff at the Oxford Circus tube station which seemed hurried but in fact were fairly accurate.  Once we found Welbeck Street after one small wrong turn we could see the world famous green logo of the hotel only a very short walk away.
While my wife checked us in I went over to the bar area and had a chat with the concierge.  We talked about Southampton who were playing at the time and how well they were doing in that game.  Then like some secret society we both parried each other with some verbal cues and established we were both Arsenal supporters.  This revelation and confirmation was concluded with a handshake.
Like all hotels this one offered the guest a cloak of anonymity which in itself gives me, the traveller, a sense of security.  No one knows who I am.  No one knows where I have come from or why I am staying.  It is almost as if once physical baggage has come over the threshold of the hotel that complex items of personal emotional baggage that add dimension to our identities have been left somewhere in the street outside or even on the steps up to the main entrance.
Our room was on the first floor and overlooked Welbeck Street.  It continued the theme of anonymity.  An empty wardrobe.  A bed made up.  A few pictures of London scenes.  A lion in Trafalgar Square at the foot of Nelson's column, the Houses of Parliament, St Paul's Cathedral and then a skyline of London by night.  A series of pictures repeated in the same order throughout the hotel.  No ornaments to add a personality to the room.
From the window I could see a few parked cars and very little traffic.  In the few minutes I watched the street scene a limousine pulled up outside the hotel.  Car doors opened.  There were voices.  Car doors were shut and the limousine glided off down towards Oxford Street.  Otherwise the street was quiet.  After all it was raining, it was cold and it was Sunday evening so why would people venture out unless they absolutely had to?
The other side of the street was inhabited Victorian town houses.  Very narrow but stretching three or four floors up into the dark night where the glow from street lights could not reach.  A lot of the windows were in darkness.  Those places that were offices were waiting for Monday morning when they would fill with people, conversations and tapping keyboards in between trips to the coffee machines and meetings.  Those that were homes and in darkness were waiting for their residents to perhaps come back from a weekend in the country or from a Sunday evening out with friends and families.
On the first floor of one house the room fronting on to the street with a bay window that was fully lit and occupied.  There was a man with his back to the window working at a desk looking into a computer screen.  The anonymity of the hotel allowed me to watch from behind the net curtains.  Every so often he would get up and sit on a window sill talking into a mobile phone and then return to his desk.  Whatever he was doing was very absorbing.  Perhaps he was a lawyer getting ready for a big case starting tomorrow. Or, a business executive preparing a presentation.  Or, as it was near the deadline for filing tax returns, an accountant working on his clients' returns. The career permutations were only limited by my imagination.
Our room was safe and warm and for a few hours would isolate and cloak me in anonymity away from the outside world.