Unseen Britain - Whitechapel, Wolf Mankowitz, George Bernard Shaw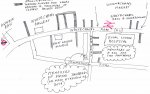 Thu, 24 Mar 2016
We surfaced from Whitechapel underground station blinking in the bright spring sunshine that was reflecting off of the white walls of The Royal London Hospital.  To add to this visual overload our eyes were assaulted by the vibrant kaleidoscope of colours emanating from clothes, rolls of fabric and the fruit and vegetable stalls that form Whitechapel Market.  We were in one of London's rich multicultural environments where women in full burqas glided by like shrouded black ghosts or as partial ghosts in the more elegant hijabs.  All of the men wore variations on western clothing.
In some respects coming from the underground into Whitechapel felt like the change in our television service here in the UK when it converted from monochrome to colour.
Not much chance to take everything in though as we had to find the venue where my wife had to be for the rest of the day between Whitechapel and Commercial Road.  The route we had worked out took us through the car parks and lanes surrounding The Royal London Hospital, past The Royal London Hospital Museum and Barts London School of Medicine and Dentistry.  Through sanitised and tidy streets lined with Victorian style rows of houses that had been or were in the process of being updated to 21st Century standards until we reached Nelson Street.
I say 'sanitised and tidy streets' not without good reason.
In 1861 a Mr Hollingshead wrote a book titled 'Ragged London '.  He says that in taking a walk from Aldgate to Old Whitechapel Church 'you may pass about twenty narrow avenues leading to thousands of closely packed nests, full to overflowing with dirt and misery'.
We passed through some of those avenues on the south side of Whitechapel and the 'overflowing nests' had disappeared. They were a far cry from what Hollingshead had observed.  They were wide, bright and in some places were freshly cobbled.  Or, more to the point, the 20th century tarmacadam surface had been removed to reveal the cobbled surface with a Victorian heritage.  It was still quite early on a Saturday morning so the lanes and avenues were deserted like a film set waiting patiently for the organised chaos of a film crew to arrive and start work.
Along one of the streets we went past a Jewish tailoring workshop and memories of my English Literature classes at school resurfaced.  One of the compulsory books we had to read was 'A Kid For Two Farthings' by Wolf Mankowitz.  It was about a young boy living with his single Mum in Whitechapel and in the basement of their building was a Jewish tailor whom he had befriended.
The boy, Joe, has been told by the tailor, Kandinsky, tales of unicorns and that if you can touch one on its single horn your wishes will come true.  I seem to remember that Joe's wish was to find a better life for his Mum, Kandinsky and himself and if only he could find a unicorn he could make this one wish come true.  With his meagre savings of two farthings he is able to buy a kid goat  in Whitechapel Market.  The kid goat is very sickly but Joe doesn't know that when he buys him.  What Joe does know is that the kid has one bump in the middle of his forehead where a unicorn's horn will grow.  He believes this is the unicorn he has been looking for.  The kid goat is ill but Joe keeps touching that one bump on its forehead making his wish.  While the kid is alive he does understand that it is ill and because it is ill it cannot fulfil that one wish but he has hope.  Eventually the kid dies and with it Joe's wish to escape his present life to somewhere better.  The deep vein of this story is how Wolf Mankowitz conveys a message of poverty and the seemingly impossible task of being able to escape it.
We found the venue where my wife was to be working for the rest of the day and parted company.
I set off on my solo meanderings to explore Whitechapel.
At the end of Nelson Street is New Road.  Facing me was a row of four or five story buildings from the Victorian era.  Most of the row looked tired and ready for a makeover.  Next to the steps leading up to front door of one part of the row was a blue plaque.  These are quite common in the United Kingdom and are put up on buildings to signify that an historical event or person connected is connected with the location if not the very building.  This building, 23 New Road, was Professor Orson's Dancing Academy.  As far as I am aware there were no famous dancers graduated from there to justify the blue plaque.  What did take place there on 3rd September 1865 was the first indoor meeting of the Christian Mission which later became The Salvation Army.
Just reading the plaque revived even more memories of English Literature classes. Another one of the books we had to read was George Bernard Shaw's 'Major Barbara' about a Major from a wealthy  background serving the poor and needy through The Salvation Army and finding the love of her life away from the materialism her father generated from the weapons business.  Major Barbara served in one type of army while her father supplied a completely different type of army.  Miss Atkinson was our lecturer who could not have been much older than us.  As well as being a fun person to take us for English I am sure that she was a size fourteen who always wore a twelve which kept us male teenagers in the class focused on her every lecture but probably not on what she was teaching. Miss Atkinson took us to see it as a stage production at the Aldwych Theatre in The Strand.  It was the first West End production I had ever seen made even more magical by Judi Dench in the lead as Major Barbara.  Even then, some forty five years ago, her voice had that quality of questioning or ironic huskiness.
Two literary experiences in less than a mile was quite a good start to the day.
I drifted back to Whitechapel Road past more housing, takeaway outlets, mini cab offices and convenience stores.  At the Whitechapel Road I headed back towards the City of London past the East London Mosque.  Men women and children were flowing in and out through their respective doorways with the same urgency as Christians go to church on Sundays.  Attendance is routine but it always has an urgency about it in case a divine message of enlightenment is missed.  Directly opposite the mosque was a travel agent offering 'single' fare bargains to Lahore, Algiers and Turkey at less than £200.
It was a long time since breakfast back in Ringwood and although I was being geographically adventurous in London my stomach was telling me not to be gastronomically adventurous.  So, having passed Lebanese, Indian, Turkish, Bangladeshi and other Orientalist eateries I settled for something to eat at a standard western place holding itself out to be French but offering traditional British food.  It was warm and filling, fuel food more than fun food.
On the way back towards Whitechapel Underground I popped into the Whitechapel Gallery which is open every day between 1100 and 1800 except on Mondays with free entry.  The exhibition installed when I went in was of street photography both stills and video. Check the website if you are in the area if you want to see art that is challenging and raw.  There is also a shop where there are books on almost every conceivable aspect of art from the Renaissances to modern British art.
My mobile phone vibrated in my jacket pocket bringing me back to the here and now.  A text came in from my wife.  Her meeting had finished and she was ready to meet me back in Nelson Street.  I retraced my steps away from Whitechapel Road past the convenience stores, mini cab offices, takeaways and housing.  There was the blue plaque at 23 New Road and recollections of Major Barbara who had somehow morphed from Judi Dench into Miss Atkinson.  There was Nelson Street, my wife and time to go home to the greenery of the New Forest.