The Templetown Matador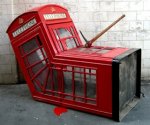 Wed, 13 Jan 2016
The telephone box in my street is repeatedly smashed up - and this poem is just me imagining why....
The Templetown Matador
Some will say it's not a sport
B.T., the police, the criminal court
But it takes nerve and technique
To trash the call-box every week
Ole! Ole! is what I say..
Ole! the Templetown matador.
He trains 'til midnight for the bout
Leaves the pub with carry-out
Carrier doubles as his cape
Some say he doubles as an ape
The inner voices say "Ole!"
Ole! the Templetown matador.
Swift swish of cape brings coup de grace
Night's silence scatters with the glass
Call-box generous in defeat
Pours diamonds at the matador's feet
Ole! roars a grateful street
Heard only by the Templetown matador.
and with the ear-piece removed for a trophy....
He swaggers and staggers with a simian grace
To call-girl Grace's handy place
Not eye candy - She's more like mace
But it's love that wove this basket case
Ole! you jealous arse-'ole
Ole! the Templetown matador.