The Murder of Lord Strathmore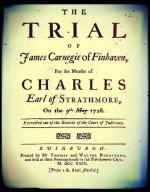 Sat, 23 Feb 2019
The Strathmore family's affiliation with the deposed House of Stuart brought them great sorrow in the 18th century and though they avoided the forfeiture and ruin suffered by many other noble families in Scotland who allied themselves to that forlorn cause, the price paid was great.  John Lyon, 4th Earl of Strathmore (more properly 2nd Earl of Strathmore and 4th Earl of Kinghorn), died in 1712 and his four sons each succeeded him in turn.  The eldest two died unnatural and premature deaths:  John Lyon, 5th earl, died on the Jacobite side at the Battle of Sheriffmuir in 1715 and his brother Charles, 6th earl, was cut down in his prime in a street in Forfar by a man who was his friend.
   The bare facts about the killing in the county town are these.  On Thursday 9th May 1728 there was a funeral held in the town for the daughter of Patrick Carnegie, 2nd  Lord Lour.  Among those who were present in Forfar was the Earl of Strathmore, his kinsman  John Lyon of Brigton and James Carnegie, the laird of Finavon (who was a cousin of the deceased and a grandson of David, 2nd Earl of Northesk).  During an afternoon of drinking around taverns and the houses of acquaintances, there was some antagonism between Lyon of Brigton and Carnegie of Finavon.  Finavon was physically knocked into a gutter or drain by Brigton.  Covered in filth, enraged and severely under the influence of liquor, Carnegie drew his sword and went for Lyon.  But, instead of reaching his antagonist, his sword ran through the Earl of Strathmore.  Two wounds were received.  Strathmore was grievously wounded and died of his injuries on the following Saturday.  Carnegie of Finavon was duly detained and charged with murder, appearing before the Justiciary Court in Edinburgh on 25th July.
   There was no doubt that Carnegie of Finavon had struck Strathmore and that his argument was with Lyon of Brigton who had undoubtedly severely provoked Carnegie.  It was an admitted fact that James Carnegie was extremely drunk, another contributory factor to the violence. 
    The immediate reaction among the people of Angus was scandal and outrage, well captured  in an anonymous missive sent a week later (later published as 'A Letter from a Gentleman in Forfar, to his Friend at Edinburgh').
SIR, Forfar, May 16th, 1728.
ACCORDING to your Desire, I have sent you an Account of the lamentable Catastrophe, which happen'd on Thursday the 9th of May instant, which has filled all the Kingdom with an universal Regret ; and this Part of it with the utmost Grief and Confusion imaginable, which is to be seen in the Faces young and old, all over the Country ; the Fact is as follows,
On Thursday being the 9th Instant, several of the neighbouring Gentlemen were invited to this Place to a Burial, and among the rest the Earl of Strathmore, Carnegie of Finhaven, and Mr. Lyon of Brigton; after the Burial was over, a great many of the Gentlemen; among whom were these three before mentioned, went to a Tavern, where after they had been there some Time, Finhaven and Brigton fell a quarrelling, as some say, concerning the Lady Kinfawns, whose Brother Finhaven is; and others say it was about the Marriage of a Daughter of Finhaven's to a young Gentleman in this Country ; but however that be, Finhaven went to take his Horse, and had one foot in the Stirup, as his Servants say, when Brigton attack'd him, and threw him in a Mire, where he had certainly perish'd, had not his Servants come to his Rescue, together with the deceast Earl; Finhaven was no sooner recover'd, and his Servants endeavouring to make clean his Cloaths, but he drew his Sword; and the Earl stepping in to prevent any Mischief that might happen, received from Finhaven a mortal Wound, about an Inch below his Navel, which wounded his Puddings in three Parts, and went quite throrow his Body. His Lordship, after he received the Wound, spoke little till Saturday's Night he called for his Lady, endeavouring to comfort her, and grasping her Hand, he died about 12 a Clock that Night. This is the unfortunate End of this universally beloved Nobleman, whose rare Qualities render'd him an Ornament to his Country, a Pattern of Youth, and the Admiration of all that knew him.
             I am Yours, &
     Finavon soon found himself locked up in the tolbooth of Edinburgh, facing the death penalty.  Those pressing the murder charge were the dead man's widow Susan (or Susanna) Lyon and his brother James, who now became 7th Earl of Strathmore.  The king's advocate in the case was the formidable Duncan Forbes of Culloden.  James Carnegie was charged that , 'without the least Colour or Cause or Provocation ...[he had attacked] the said deceast Earl, who had no Weapon in his Hand, and did basely and feloniously murder and kill him, by giving him a Wound therewith in the Belly, some Inches above the Navel, which, by following the thrust with a second Push, went through the Intestines and the Back, a little lower that where the said Weapon entred the Belly...'
   Finavon defended himself by claiming , of course, that it was an accident, that he had been drunk, and that Lyon of Brigton had severely provoked him.  The accused stated that he 'had all due Regard, Respect and Kindness for his Lordship [Strathmore], that I ever had for any Man.  I had the Misfortune that Day to be mortally drunk, for which I beg GOD's Pardon... I do not remember what happened... if it shall appear that I was the unlucky Person who wounded the Earl, I protest, before GOD, I would much rather that a Sword had been sheathed in my own Bowels.'  Carnegie was ably defended by Robert Dundas of Arniston.
   The court had heard that the accused, along with the earl and some others had dines after the funeral at Carnegie of Lour's house in Forfar.  This party that left there included Finavon and Strathmore, along with David, Lord Rosehill (another Carnegie relative of Finavon's), Thomas Lyon and John Lyon of Brigton, plus Strathmore's brother Thomas.  At a tavern named 'Clerk Dickson's', the group 'drunk pretty plentifully' and Carnegie of Finavon was frankly 'overtaken with too much Liquor'.  It was at stage that the trouble began to foment.  Brigton began to niggle at Finavon – 'bearing hard' upon him – and tried to antagonise him. Strathmore then led the others to the lodgings of his Lady Auchterhouse (James Carnegie's sister,  Margaret, widow of Patrick Lyon, uncle of the Earl of Strathmore), and it was here that things further got out of hand.  Lyon of Brigton goaded Carnegie about his family affairs, his debts, and also allegedly pinched the lady's arm.
    When the group were back on the street, at the place called Bridge-stone near the Shambles, close to 9 pm, Carnegie rebuked his antagonist:  'Sir, tho' you be a Gentleman, you are uncivil.' (Another witness thought one of Carnegie's servants uttered this.)
   Brigton bodily threw the drunken Carnegie into the kennel, the deep gutter or ditch at the side of the road – which was 2 feet deep and presented a danger of drowning - and stood there, with his arms folded, laughing at him.  As soon as Carnegie was helped out of the gutter (by William Macgleish, a servant of Lord Strathmore) he drew his sword and ran towards Lyon at a staggering pace.  His enemy ran towards the Earl of Strathmore, whose back was to him, and attempted to draw out the earl's sword.  At that instant, Carnegie approached and tried to push Lyon and then the earl shoved his kinsman aside and was wounded by the thrust of Carnegie's sword.  It was alleged by Finavon's lawyers that the reason Lyon of Brigton had no sword of his own was that 'the known Ferocity of his character and behaviour, is such, that the Country Gentlemen of his Acquaintance decline to keep Company with him if he wear any Armes...'
   One witness at the trial, Robert Hepburn, a hammerman in Forfar, confirmed the push by Brigton and sword drawing by Finavon.  Hepburn also stated that Strathmore pushed Brigton aside and took some steps forward and tried to embrace the advancing figure of Carnegie with open arms.  The two men came together, then the earl stood aside and lifted up his shirt; then he said three times that he was wounded and fell to the ground.  Other swords were drawn by others in the party.  While another bystander, a maltman named Thomas Adam, went to assist the stricken nobleman, and either Lord Rosehill or Thomas Lyon forcefully twisted the weapon out of James Carnegie's hand. (Rosehill himself said it was Thomas Lyon who disarmed Carnegie.)  Nobody attempted to apprehend the assailant as he calmly walked away at a slow pace towards the house of Lady Auchterhouse; although Rosehill stated that Carnegie actually ran to his sister's door. Andrew Douglas, another witness, told the court that Thomas Lyon and Carnegie engaged in some swordplay after the mortal wounding of Strathmore, but no blows were struck and soon Lyon twisted the other's sword out of his grasp.   Others claimed that the assailant was chased by armed men to his sister's.
   A servant name John Ferrier who was watering his master's horse saw the drinking part spill out of Lady Auchterhouse's dwelling.  John Lyon of Brigton was overheard haranguing Carnegie of Finavon, evidently continuing an argument from inside.
   'You must give me an answer to my question,' Lyon was demanding Carnegie.  The question was about whether Finavon would give his daughter in marriage to Lord Rosehill.  When Finavon answered no, Brigton then asked if he would drink a bottle of wine and if he would drink to the health of the King?  Finavon again said no.  Brigton then grabbed him and threw him into the gutter, shouting, 'Go and be damned, and your King George, whom you love so well.'
   What the witness did not state, but what was well known, was that James Carnegie was notoriously regarded as a turncoat who had changed allegiance from the Jacobites to the Hanoverians.  He had switched sides nor from personal belief, but because he had allegedly been offered a massive bribe .  Even more scandalously he had deserted the Jacobite army in the middle of the Battle of Sheriffmuir, running from the field of conflict.  Feelings ran high on this subject, so soon after the 'rebellion' of 1715.  In that conflict not only had the earl's brother, the previous earl died, but so had Patrick Lyon of Auchterhouse, Carnegie's brother-in-law (who also died at the Battle of Sheriffmuir).   So this sly mention of the Hanoverian King George doubtless enraged Carnegie of Finavon.
   Following Carnegie to his sister's house, some of men came with drawn swords and dragged the laird into a room where they locked him in until the burgh baillie came to arrest him.  A great mob had gathered outside the house of Lady Auchterhouse by the time that the baillie, named David Cauty, arrived.  He went to the house of  the burgh clerk Mr Dickson, where the wounded earl had been carried, then went back to the Auchterhouse property.  A certain Fletcher of Ballinshoe was adament that he wanted to smash the door in, but Cauty talked him down and also relieved Thomas Lyon and Brigton of their swords.  Although Lady Auchterhouse and her servants denied that Finavon was there, Cauty found him and took him along to the town gaol.  There Carnegie of Finavon fell into anguish and said 'that he deserved to be hanged for wounding such a worthy Earl...'   Cauty claimed that he had heard Carnegie state there was some grudge or misunderstanding between himself and Strathmore, though matters had improved recently and it was not a factor in the recent violence.  This disagreement was confirmed by Alexander Binnie, Provost of Forfar, who stated that Carnegie informed him  that the dispute had been about a process of bastardy which was being dealt with by the Court of Session. 
   The ill-feeling between Finavon and Strathmore was confirmed by Charles Carnegie, Lord Lour, who affirmed it had been going on for two years.  He believed, however, that the dispute arose from a business deal between the two men concerning some meal.  Thomas Crichton, an apothecary from Dundee, had been urgently summoned to attend the stricken earl in Forfar and realised immediately that the injuries were likely mortal.  He gave testimony that Strathmore admitted he thought the attack was intended for his relative Brigton and not himself.  But there was one circumstance he could not account for:  that after the sword entered his body, Finavon pressed it forward, until the body of it went right through his and the two men were therefore face to face. 
   It was perhaps unsurprising that Margaret Carnegie, Lady Auchterhouse,  gave a fairly positive picture of her brother's conduct.  There was no dispute between Finavon and Strathmore, although her brother was admittedly drunk.  Brigton manhandled Carnegie of Finavon several times and asked him if he would not give one of his daughters to Rosehill?  there were snide comments about Carnegie's lack of a son also.  He further taunted him by saying if he were a young man and if Finavon refused one of his daughters, 'he would maul him...' 
    At the trial in Edinburgh, Dundas was such an intelligent advocate that he managed to set a precedent in Scots Law by the power of persuasion and precedent and event persuaded his opponent, Duncan Forbes, to study Hebrew to better understand the examples he had cited.  By ancient precedent, and overturning more recent practice, the power of duties to find  an accused party guilt or not guilty was re-instated, disregarding the recent alternatives of proven and not-proven.  As a result, the system in Scotland was blessed – or cursed – with the current triple choice of guilty, not guilty, and not proven.
   But was James Carnegie of Finavon in fact guilty of murder or manslaughter?  There was bad blood between himself and Strathmore.  In truth, he had been provoked, he was mortally drunk.  But, then there was the question about his character and the question about whether he had stabbed Strathmore once or twice.  Additionally, there is  is the haunting image of the unarmed Earl of Strathmore approaching this enraged and drunken friend with his arms open wide and receiving a sword wound (or two) which passed right through his body.  By his own account, the earl stated that there was a pause after that brutal first stroke and then Finavon brutally drove the blade home to its hilt – and the two men were brought less than inches apart.  Despite these doubts, Finavon walked free from the proceedings.  The jury had decided by a majority of twelve to three on his innocence.
   Here's how the Newgate Calendar reported the event:
MR. Carnegie was a gentleman of fortune, whose estate being contiguous to that of Charles, Earl of Strathmore, a considerable degree of intimacy subsisted between the parties, which was increased by the similarity of their political sentiments, both of them being favourers of the claims of the Pretender.  Lady Auchterhouse, who was sister to Mr. Carnegie, having invited some of the neighbouring gentry to visit her, there went among the rest John Lyon, Esq. a young gentleman who paid his addresses to another sister of Mr. Carnegie. Mr. Lyon's view in this visit was to ask Carnegie's consent to the match; but this the latter absolutely refused, and treated Lyon with so much asperity, that a quarrel ensued, and swords were drawn by both parties. The Earl of Strathmore, anxious to prevent bloodshed, exerted all his influence to reconcile the contending parties; and at length so far succeeded, that all animosity seemed to have subsided, and the company sat down and drank together, as if no quarrel had arisen.  The conversation now took a political turn; and, as the company were of different sentiments, high words of altercation arose; and the King and the Pretender were abused in a manner equally illiberal.  At length the passions of the parties were so inflamed that they had recourse to blows; and some of them quitting the house, among whom were Lyon and Carnegie, the former pushed the latter on the ground, which enraged hi