Life is a Book of Apologies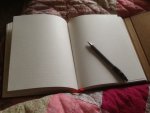 Sun, 13 Dec 2015
It's all at once important to be tidy -
the sudden uncluttering long intended becomes 
urgent at the finale, like ousting undies 
carelessly kicked to hiding, mugs, 
on the bedside chest, their congealing contents 
thickened to cement - poor plaque sickened 
vessels beg to be de-scaled and disinfected entirely.
Long distant friend for whom my voice has become 
more novelty than necessity feigns interest 
in attempts to disguise embarrassment 
in the silence that follows incongruous declarations 
of affection and thanks for past deeds of kindness -
coughing off obligatory apologies. 
Must be said, though - unfinished business is ...
That treasured watch - you want it? My diamond ring -
it's yours, honestly. No more moody me - suddenly
not sullen, but uncharacteristically positive 
and inexplicably happy - think - Thank Goodness!
Then there's the note - and a certain amount of planning
is involved, like the where, and when? Wondering who 
might walk in? First footing friend, I'm trying to minimise 
the shock. I never considered the details before - 
suppose I imagined no one bothered about etiquette 
at a time like this, but it seems to matter after all. 
Tomorrow, of course, I'll be without a care 
in the world. All that'll be left is this piece of paper; 
another sorry of sorts - meaningless in a way, 
but necessary in order to correctly close the last chapter.