Beryl's Fortuitous Advertisement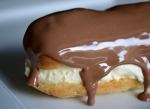 Mon, 24 Feb 2014
3 likes
It was a happy accident that led Beryl, a spinster of limited pension, to her new profession. Her companion dog, Fluff, having passed away and feeling she was too old to take on full responsibility for a pet which would likely outlive her, she placed the fortuitous advertisement in the local gazette.           
            'Do you have special pet needs? I can help with all your doggy needs.'
            Beryl's phone almost melted; it was terribly unused to such volume of calls. Many that she answered completely baffled her with their requests, but one, she calls him Mr Éclair, requested a private visit to her abode.
            "Do you have anything on?" he enquired.
            Checking her empty calendar, she replied, "No, nothing at all."
            "Perfect," he said, "I will be round in precisely 35 minutes," and hung up.
            "I do like a punctual person," Beryl told her Christmas cactus. "I wonder what sort of dog he has."
            To the second Mr Éclair rang the doorbell. Unfortunately, Beryl, a house-proud lady, had taken the time to do an extra vacuuming session. Lugging the machine to the upstairs cupboard and hurrying to the summoning of the bell left her somewhat out of puff.
            She swung the door open, huffing a wheezy, "Hu,hu-Hello…"
            Mr Éclair wore dark glasses and carried a white cane. He wore a rather smart suit which advertised to Beryl the uprightness of his character. "Hello dear lady," he said tipping a slight bow with his trilby.
            "Where's your do…." Beryl began, but feeling rude cut herself off, "Do come in."
            Mr Éclair tapped his way into her neat little parlour, where he took the first seat his cane located.
            "May I offer you a cup of tea?" Beryl enquired of her guest, the first she'd entertained in many a decade.
            "Tea? Rather dangerous don't you think?" said Mr Éclair.
            "Dangerous?" asked Beryl.
            "Risk of spillage, risk of burns."
            "Oh, I see," said Beryl, then wishing she hadn't mentioned being able to see, she came over all flustered.
             "Cake…do you have any?" asked Mr Eclair in a rather brusque, though Beryl liked to think, business-like manner.
            "As luck would have it, I do," she pronounced, "some fancy cream ones I got in as a treat; éclairs and a couple of cream horns."
            "Ahhh, delightful," sighed Mr Éclair opening the carrier bag he had with him. "I bought some supplies, but cream ones to finish will be divine. I trust you still have nothing on?"
            Perplexed, Beryl looked over at her wall calendar, why anything should have changed in 35 minutes was beyond her comprehension, but he clearly needed reassurance of her full attention. "Nothing…not a thing. I'm all yours."
            "You sound charmingly husky," said Mr Éclair, "I like that in a lady. How long have you been in the profession?"
            "Profession? Oh, the dog….where's your dog by the way? How did you get here without a guide?"
            Mr Éclair paused, "I'm not blind," he said removing his glasses to expose eyelids stuck down with parcel tape, "I prefer the illusion of my imagination. You see, this way, you are whatever I choose you to be. You understand?"
            "Um, I think so," said Beryl totally baffled, but too proud to admit such a weakness. "Will you bring him next time? Your companion?"
            "Companion? Oh, I see, dear lady, let me assure you, I have lots of friends," said Mr Éclair, "and they will all be headed your way if this afternoon goes as I hope. I shall be sure to recommend you, though of course, I shall expect you to fit me into your diary at all times too."
            Beryl pictured her empty bank account, the sad dry bread in her larder and the rows of cut price baked beans. "Gosh, that's wonderful," she choked, picturing all his friends with dogs, all that company, all the extra cash.    
            "Let's get started, after all, time is money," said Mr Éclair, "have you pulled the curtains? Are we on view to anyone? I need to prepare myself for our interlude."
            Interlude? Surely he meant interview? Beryl peered down her short front path to the busy road outside, "No-one's looking, but I will shut the curtains if it makes you more comfortable."
            Aside from a little rustling from Mr Éclair and his carrier bag, Beryl was quite unprepared for the shock that presented itself as she turned around.
            Mr Éclair stood stark naked upon a large pvc sheet.
            "Oh my goodness," gasped Beryl, "I wasn't expecting that…"
            Mr Éclair laughed in a sort of proud way. "What do you think?"
            Beryl was overcome.  Not sexually you understand, no the untidiness of him, his 'bits' in her ever so neat parlour, rather flustered her. She had an overwhelming urge to take her feather duster to him.
            "Lucky you're standing on that mat," she announced, appalled at the idea of loose body hairs dropping onto her vacuumed carpet. "You need a jolly good tidy up, if owners look like their dogs then clearly you have a matted Afghan hound at home."
            "Tidy up? Ah perfect," sighed Mr Éclair, "I'm ready when you are, let me have it…."
            "I shall need some serious equipment for this job," Beryl said more to herself than to Mr Éclair. She was used to announcing her intentions to empty rooms, so his reply rather shocked her. It was like she forgot he was there, so intent on the task in hand was she.
            "Hurry," he urged as she pulled her box of cleaning supplies from the under sink cupboard. "I'm waiting, come along, give me everything you've got."
            "Look at the state of you," Beryl snapped, "you've got more overgrown shrubbery than I've seen on many a forest walk. You should be ashamed."
            "Oh I am ashamed, very, very ashamed," said Mr Éclair sounding more excited than shamed to Beryl's ears. "You'd better trim me up."
            Beryl snapped on her marigolds with the fervour of a surgeon going into battle with an over-ripe appendix. Grabbing an old dish brush, and some pruning shears she kept for her cactus collection, she set to work.
             "We'll soon have you all spick and span," she said realising that he was most probably testing her dog grooming abilities. It seemed a little unorthodox, but clearly the man had a vision how he wanted his canine cared for and with the promise of rich rewards for her perfectly honed cleaning skills, Beryl was not about to let a little embarrassment on her part sour the deal.          
            "Is that rubber gloves I smell?" asked Mr Éclair inhaling deeply.
            "Of course," huffed Beryl, "I'm not going near your nether regions without protection."
            "Divine, dear lady, divine," sighed Mr Éclair, clearly relishing the moment Beryl burst forth with the cedar scented furniture polish. "That's cold, it tickles," he squealed as she liberally let rip with the aerosol, foaming him over with white tram lines.
            "More!" shouted Mr Éclair as Beryl finished buffing, turning her attention to his bottom with her stiff carpet brush.
            "More? Are you sure?" she asked as welts began to appear on the pearly flesh. "Where's my antiseptic spray?"
            "Oooooo!" screeched Mr Éclair, "Yeeeesssss, oooooo!"
            "Stings a bit does it? Shall I stop?"
            "No!" yelped Mr Éclair, "I want more! More, more, more! Harder!"
            Soon Beryl was panting from her exertions, she was never good on her knees, arthritis a pay back from years of scrubbing the front step. Mind you the practice came into its own as she tackled his toenails. The abrasive powder she used for cleaning the sink got them up a treat.
            She couldn't quite stand up in one go, so she used the time to tackle his bottom again with a nail brush. "I think that will suffice," she decided when it looked like a road map of the Lake District. Taking a bottle of brass cleaner she used to shine up her letter box, she polished his nipples until they positively gleamed.
            Mr Éclair had gone strangely quiet, only his rapid breathing clashing with Beryl's asthmatic panting filled the room.
            "Oh my God, oh my God, oh my God," chanted Mr Éclair, "I see stars! I need to…..oh my God!"
            "I'll leave you a minute to your prayers," said Beryl, humbled by his religious devotion. She slid off to the kitchen glad of the escape to take a few gulps of her inhaler. Her lungs were bursting, "I feel like I've run a marathon," she whispered to the cactus, "he's fair taken the wind out of my sails."
            Suddenly she remembered her guest's request, flicking the kettle on she popped her head round the door into the parlour.
            "I'm so sorry, where are my manners? I forgot all about your cake," she said to the now fully dressed Mr Éclair.
            "Cake? Oh, dear lady, don't worry about cake, you've done quite enough for me today. Perhaps next time we should start with cake, you smear it on me, then plenty of work in scrubbing it off. I will of course pay you double."
            He pulled a roll of notes from his wallet that frankly made Beryl's eyes water.
            "What about your dog? Do I get the job?"
            "Dog? I don't have a dog," said Mr Éclair, "your advertisement was for dogging services and since I am averse to the cold, I'm happy to partake here. Shall we say the same time next week?"
            He pulled a copy of her advert from his top pocket, handing it to Beryl.
             'Do you have special petting needs? I can help with all your Dogging needs.'
            Beryl felt her mouth doing impressions of a goldfish, "Oh my," she said "I think there's been some kind of printing error."
            "Really?" frowned Mr Éclair, "is the rate not high enough? I did think it was rather low for the service you are offering. Let's say I will pay you triple and call it a deal. I shall send all my like-minded friends your way dear lady."
            And so it was that sweet Beryl, untouched spinster of incredibly high cleaning standards became a specialist sex worker.
            Her larder filled with cakes and treats with which to indulge her long list of visitors. Never again was Beryl lonely, as her client list grew from Mr Éclair who came weekly to be smeared with cream cakes, to a whole calendar full of wonderful gentlemen, from Mr Balloon-Popper to Mr Ice Cream Squelcher. All with strange and exotic needs in the cleaning department which rendered Beryl's little parlour into a pvc paradise.           
            "God bless the gazette with its terrible printing errors," sighed Beryl as she sipped champagne in first class on her way to her first exotic holiday. "This week someone else is going to clean up for me."