Fernundaling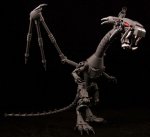 Thu, 08 Dec 2016
1 likes
I loved to go fernundaling.
Fernundaling was bungaloo.
But then I met the Custard Head,
the pumpabellow Trumpadoo!
You Thing, he said. You Snorri Thing!
His mouth went chop. And chop, chop, chop.
He struck me with a zitterbee
and threw me in the Gunjendrop.
The world was sharf and sharf indeed.
The Trumpadoo just couldn't lose.
He was the King of Custardy.
He was the Ozer of the Ooze.
But then I heard, one million strong,
with slipper feet, with shoff and shoof,
the Snorri Things were on the march
and with one mighty zoost of truth
they scorterised the Trumpadoo!
They noodlefied him, there and then!
Come out, the Snorries said to me.
Fernundaling is here again.