Ernie at the edge of the world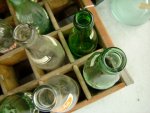 Wed, 10 Aug 2016
Ernie left his flat on the eight floor of Dunswin Court at around three o'clock in the morning. He's got two bedrooms, but only uses one to live in. The credit in his electricity ran out so long ago it feels normal to be in the reflected grey half-light of other people's lives.  Not that he sleeps much anyway. His feet hurt and his legs hurt. Paul who lives two floors about him, tells him to take his shoes off when he visits him to cadge a fag. Urges him to take a bath because 'he's fuckin' mingin', but he doesn't like to. If Paul's feeling generous and it's his payday he'll slip Ernie a can of lager. But it's Wednesday, Ernie's payday and even though rain is sheeting down as he tiptoes, because of the pain in his feet, up the steep gradient of Mountblow hill, he's got an outer pea-green anorak, an inner body warmer and beneath that a checked shirt he's flush and not out of breath.
Years ago Ernie worked casual delivering leaflets. Used to get picked up early in the morning at the bus stop, with the clock tower on Dunbarton Road to shelter under. Worked all over Scotland, even venturing into some parts of Northern England. Opening gates, closing gates, up and down stairs along landing, dogs barking and chasing him and kids on bikes and scooters and bouncing balls, looking through him as if he wasn't there, but it was a tenner a day, some days as much as fifteen quid. Enough to be getting on with.
More recently he collected gingy bottles. He'd have a bag slung over his shoulder and he'd scour the bushes and bins of the Industrial Park on the way to the Shoppie. Sixty pence refund per bottle. He used to take them to a Paki shop up the top of the hill. Then nip down to Aldi and get a two-litre bottle of QC sherry. A bit of sweetness in his life in the twelve days of drought. Then they stopped giving refunds on glass bottles.
After exiting the flyover at the Crematorium he kept his head down and hugs the inside of the pavement, but there wasn't much traffic on the dual carriageway, it was about a three mile walk to the second traffic island, he could do it in his sleep. Sharp left past Drumchapel Baths and that was him practically there. He knew the lay of the land well. Used a Food Bank in Kinfauns just along from the Shopping Centre every week. He filled the shoulder bag he used use for gingy bottles with whatever the ladies gave him. They were big on pasta, but Ernie wasn't keen on it. He didn't have a cooker and T-bags weren't much use either. Even hotdogs presented a challenge, because he didn't own a tin opener. Kellogg's Cornflakes were good because you could eat a box raw and it would last about a day.  Paul up the stairs made short work the pasta and T-bags.  What Ernie is really dying for is a fag. He fingers the post-office card in the inside lining of his pocket that the bank in the Shopping Centre accepts and he knows exactly when his money should be in his account. He'll take out £130 the maximum of with a few deductions for council tax-repayment taken off his Giro. Later on that day he plans to go into the post office in Dalmuir and take out the other five-pound ninety that is still in his account. His routine is largely unchanged. The first thing he does when he's cash in hand is head towards the paper shop that opens at four a.m. and buy a box of Swann Vestas and a packet of twenty Chesterfield. But like everything else there's been cut backs. The twenty packet of cigarettes is not only bad for your health and can kill you, now  it only has eighteen fags in it. But that's his only indulgence, well that and a couple of bottles of QC and a couple of cans of lager. Two days of grace out of fourteen. But he's staring at the hole in the wall. Twice he's keyed in the number and it's shown there is nothing in his account. He doesn't want to try a third time because the machine will swallow his card. Nobody about to ask for help, he trudges down the road and waits for the Post Office in Dalmuir to open at nine a.m.
Ernie is first in the queue; only a pensioner with a checked hat on and pulling a trolley is behind him and huffing and trying to edge in front. He's shy, brushing away strands from the bowl of his greasy hair as he glances at the girl behind the protective barrier in the Post Office. She's slim and her hair is still long and black and she's as pretty as she was when they went to the same school. 'Put your card in the machine,' she says and smiles at him.
He keys in his number and his mouth drops open as he waits for the magic of money to appear. She leans forward elbows on the counter, 'I'm sorry sir there is three pence in your account, you'll need to take it up with the DSS.'
Ernie nods. 'Can you just check again?'
'Pop your card in the machine.'
Ernie hesitates outside the automatic doors of the three storey DSS building on Kilbowie Road. It's not his usual day for going and all he gets is hassle when he's inside. 'Sanction' is not a new word to him, it just means chewing pasta soaked in cold water and waiting for something better to come along. As usual he's accosted by one of the bouncers on the door. They don't call them that, of course, but they've got the shirt and tie and a lanyard with a name tag around their neck with their name embossed on it, and that slow smile. 'Can I help you, Sir?' a fat bouncer with specs and reeking of aftershave asks?
'Aye,' says Ernie. 'My money's no' in the bank and I'd like to speak to somebody.'
'Do you have an appointment?'
'No.'
'You need to have an appointment.'
Ernie's head drops, behind the bouncer and the slate grey of a room divider at the door, a man with a mop of reddish hair in a light blue shirt and grey trousers and carrying a clipboard looks over at him. 'That's the guy I usually see there.' Ernie points to the man with the clipboard. 'Can't mind his name, but that's him. Ask him,' says Ernie, 'he knows me'.
'You need an appointment,' says the bouncer.
'But I've no' got a phone,' says Ernie.
The bouncer sniffs as he considers. He picks up a clipboard from the table with a pen attached to it: 'I can allow you to use one of our dedicated phones if it's official business. Is it?
'Aye.'
'Name?'  
'Ernest MacDade,' but there's a hint of rebellion in his voice. 'I need to phone for an appointment in the building where I'd get an appointment?'
'Aye,' the bouncer writes his name down on the top of a sheet. 'That's about it, but there's nae guarantee you'll get an appointment today.' And he smiles while holding out his arm and directing him towards a bank of plastic chairs Ernie is familiar with, 'Or even this week or month. We're very busy'.