Ferns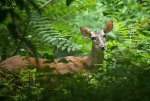 Fri, 10 Jun 2022
How many
are hidden in those ferns,
their eyes on me as I pass?
How close could I get
before one, or more
reveal themselves?
But that's not how it should be..
I'd rather, after a time
of being a peaceful visitor
they could look me, fearlessly, in the eye.
To prove myself worthy,
I would not break a single frond
of their trust.