Contradictions
Image: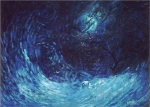 Fri, 14 Dec 2018
1 likes
I heard somewhere that Robespierre didn't believe in the death penalty when he became a politician.
To George Washington all people were created equal, except the slaves, and the Indians.
Adolph Hitler was an artist. How is it possible that an artist who could appreciate beauty could lead to the deaths of many millions, and bring the whole of civilisation to its knees.
Mugabe was a freedom fighter? How come he caused such misery in his homeland?
Shamir and Begin were both terrorists in their youth. So were Sadat and Arafat.
How can Pol Pot and Stalin hold their heads up high and call themselves true communists after what they did? Shame to both of you. And Chairman Mao? How did you get to call yourself an economic planner?
Anakhin Skywalker became Darth Vader. The distinction between the Dark Side and the Light Side is small indeed.
While Thatcher reined in public expenditures and encouraged unemployment to get us all to work harder for our pay, the British people were giving thousands of pounds to the cause of saving lives in Ethiopia at Live Aid.