The Cosmonaut's Last Journey (It's All Over Now) by Alfred N.Muggins
Image: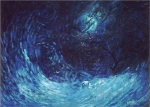 Sat, 12 Nov 2022
1 likes
4/7/22
Forlorn he looks out of his rocket window,
His people no longer love him,
They have seen through the thin veneer of his lies.
Now they know where their sons have gone,
And why they are not coming back.
They have gone to fight their erstwhile cousins, grandparents and uncles in Ukraine, and like many of their victims, will not be coming back.
You have been made a cosmonaut for your final journey,
You have been everything else in Russia:
President, Tsar, Warlord, KGB man, Prime Minister, Prime Oligarch, Dictator!
Now it is your turn to conquer the stars!
Leave all your money, taken from Russia,
It will do you no good now.
Now it is your turn Plutin, bringer of war.
You should have been sent to Mars,
the planet whose god you ended up serving,
(asphyxiate like Schwarzenegger nearly did when the air ran out in Total Recall!)
or Saturn with its many rings
(You would be one of many,
encircling in the gas for all of eternity!).
Don't worry Plutin, you're not going there,
You're on your way to Pluto,
Right where you belong,
As your name suggests!
You know you will never get back from there,
and once again there will be peace on Earth,
and all the nations can live in harmony,
toleration and self determination once more!
(A perverse poem by Alfred N.Muggins. He wrote this prediction to make himself feel better after the occupation of Lisichansk by Putin's Russian invasion forces)