The Long and Spectacular Life of Agnes Magnusdottir 8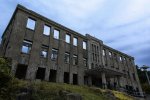 Sun, 12 Sep 2021
1 likes
Extract from The Ministry of Complaints
The sound was quite spectacular. 
    Hans faked one enormous sneeze and then another. The tears running down his cheeks were genuine, they being the result of the pepper he had cast into his eyes and the half a dozen clothes pegs he had attached to his scrotum before entering the building.
    "I was wondering Becker."
    Hans croaked out the words, effecting on top of everything else an almost complete loss of voice.
    "Would you mind changing places with me today. I find myself incapacitated with the most terrible flu and do not feel up to facing the general public in such a state." 
    Becker, who had been rubbing the lenses of his glasses back and forth across his trousers, put the spectacles back on. The eyes behind them were as large and docile, and as trusting, as a cow's. 
     "It would just be for one day, you understand? A good night's sleep is probably all I need. I would be most grateful."
    Becker took off his glasses, put them back on again. He gave one of his smiles. 
    "And what are friends for? I am sure if I found myself in similar circumstances you would do the same for me. Step into the breach so to speak."
    Hans felt not the smallest stab of guilt as he recalled how just the week before he had taken a wee into Becker's afternoon tea.  
    "Just one thing!"
    Becker had only walked five or six steps towards the keys when he turned back, a worried look upon his face. 
    "This is not some sort of trick is it? I am not going to go into the reception and find it contains an angry Doberman? Or some kind of handmade explosive device?" Becker let out a nervous laugh. "Or that a chasm has opened up in the floor and I will plunge to my death. Because," and here Becker pointed a finger, "you haven't always been nice, you know? Last winter for example you locked me out in the freezing cold simply because I told you to look on the bright side. I might have died."
    Just then one of the clothes pegs Hans had attached to his balls pinged painfully off bringing fresh tears to his cheeks. It made his lies seem almost sincere.
    "Think of this as a new beginning. For both of us. From now on we'll be best friends. If you want anything just ask. I will always be there for you. Like a brother you could say." 
"And you are sure you know what you are doing?"
    Schmidt reached out and put one of his spidery hands on Hans Walter Neumann's arm.
    "If we fall behind it will be my arse that is kicked. You understand?" 
    "I wouldn't want that," said Hans although in fact he was thinking that if Schmidt didn't remove the hand from his arm he would quite happily cut off Schmidt's arse and wear it as a cosy to warm his own bald head.
    "Don't be too proud to ask if you're not sure. Accuracy is what's required. Accuracy and dedication. Think of those as our bywords. We run a tight ship. It's not like being out front. I've heard the sort of thing you get up to out there. Taking three minute breaks when you think no one is looking. We can't have any of that." 
    He fixed his face into a look. 
    "Or any of the other nonsense you get up to."
    Hans followed Meyer, Becker, Werner and Schmidt out of the changing-room and stood with them by the doors. These doors stood at least twenty feet high, like they might open onto some forgotten kingdom, and were unlocked with four large keys, the locks one above another in a line. 
    The supercilious wanker. 
    It was Schmidt himself who had the keys. They hung on a thick chain around his neck and with quite dramatic ceremony, puffing and blowing out his cheeks as he ascended the ladder necessary to reach the required height, he inserted them one by one into the locks, turning them with no small effort. On coming back down the ladder he gave a small bow.  
    It was done. 
    As the doors swung open, seemingly of their own accord although actually by a system of unseen hydraulics, Hans let out an involuntary gasp. 
    It always got him this way. The place was nothing more and nothing less than a monstrosity, what Hans liked to call the dark beating heart of the Directorate. For what kind of society based its only offer of hope on such an outrageous lie?
Hans's first complaint was from a Magnus Huber. Hans could remember Huber well, an egg-bald man with a dimple in the middle of his forehead like someone had been tapping it with an annoyed finger for many years. Huber's complaint had been about the children in the flat above him galloping around like horses.
     "Little ponies I could stand. But horses! No one could put up with that. Our flats were never designed for horses. They are much too big an animal for our four square walls."
    Hans walked along the rows of shelves looking for the place where the Hs started and as he made his way further and further and further back the light got dimmer and dimmer and dimmer. 
     There was a story Schmidt had once told them about how a new member of staff had once got lost amongst the miles of shelves and not been found until three months later. He was by then quite dead, all that remained of him a set of desiccated bones, some empty clothing and a sentence scratched into the wood of one of the shelves with his fingernails, 'Tell Fritzi I loved her pies'.
    A shiver went right through Hans' body and blundering forward he spun around. 
    Where was he?
    He was lost, destined to be that next skeleton. He was on the point of crying out, "help me, I'm here," when he saw it, what he had been looking for, indented into one of the shelves at head height, 'Hu'. Hu, so Huber must be right around here.
    Climbing up one of the  rickety wooden ladders Hans pulled out dusty box after dusty box until he found one that was already full of Hubers.
    Royston Huber
    Alice Huber
    Maximilian Huber
    Pulling the pages forward Hans slipped Magnus Huber's complaint right at the back. Then he pushed the box back in place so it was flush with the others and descended the ladder.
    Dealt with. Done. Complaint closed. 
The fifth complaint in the pile Schmidt had given him was what Hans had been waiting for. The name on the form was Augustus Koch. Koch and Krüger were close enough to each other in the alphabet to allow Hans to make a brief detour without hopefully being noticed by any of the others.
    On the face of it a simple thing but it was an absolute fact that people had been hung, drawn and quartered for less. Remember the case of their old colleague Schreber. One leg had been put on show in Dresden, another in Baden-Baden. His bloody balls had been presented to his widow as both a memento mori and as a warning to others. 
    Two minutes later having deposited his Koch safely Hans put a hand up to his ear. Somewhere distant he could hear Meyer singing a bawdy song. 
    'Ich liebe hunde lecken mich am Arschon.'
    Over to the right was the flickering dot of light of Becker's lantern. Of Schmidt there was no sign. Perhaps he had gone on one of his infamous trips to the crapper…
    The old clichés are the best which is why they carry out to eternity, trotted out by tired tongues. 
    It was now or never. 
    Palms sweating and heart beating rapidly Hans first positioned and then climbed the most appropriate ladder, placing his hands and feet carefully. It would not do to fall in such a compromising position. How would he explain what he was doing here when he had no corresponding complaint? 
    As he got higher and higher his breath came in short sharp bursts. It was dark at this height, the air thin. He was an astronaut almost, a space traveller! Look father, I'm on the moon!
    Concentrate. 
    Hans said the word to himself out loud. He took a deep breath. 
    At first he thought he was in the wrong place, his eyes playing a heinous trick upon him but then he saw it.
    Unlike the other boxes surrounding it the Krüger's box was not covered in dust and cobwebs. But of course hadn't it been pulled out such a quantity of times recently? Hans giggled at the audacity of what he was doing. 
    'Ich liebe Affen spielen mit meinen Hoden.'
    Meyer was still some distance away. And let the otiose wank-stain stay there. 
    There was no going back now. 
    Sucking up his courage to the sticking point Hans pulled out the box and, as quickly as he could, rifled through the forms until he came to the distinctive crayon. 
    Bright pink. 
    Bright blue. 
    Bright green. 
    'Where is my father?'
    Taking one out, it didn't matter which for they should all display the selfsame information, he turned the form over and there right at the bottom was exactly what he had come to find. 
    'Apartment 16, 23 Obermeyer Strasse, 23650. Frau Fanny and Fräulein Amelia Krüger.'
    The first part of his plan was complete. 
Upon arriving back at his block Hans noticed the crowd of people milling around the entrance and then the distinctive peaked hats and grey woollen uniforms of the police. 
    So he had been found out. Schmidt hadn't been taking a shit. The bastard had been watching and had seen him take out the girl's complaint form and somehow guessed what he was up to.
    "It's Zimmerman." 
    Hans' upstairs neighbour, Weber, spoke quietly from the corner of his mouth.
    "Apparently he jumped." 
    Weber pointed up to the top of the block and traced an arc downwards with his finger. 
   "The impact sent his shins up through his shoulders, his arsehole through his mouth. Almost funny when you put it like that. Tenth one this year."
    Hans recalled clearly how Zimmerman had knocked on his door the previous summer to ask for any spare wood or cloth or tins of food. Later it came out that he had been asking everyone the same thing and the rumour spread that he was intending to build a boat in which to sail away. Perhaps the project had gone astray. Or maybe simply he had had enough. 
    "But we mustn't let them win," hissed Weber and he gripped painfully onto Hans' forearm. "We must believe that one day things will be better. I dream of food to eat, restaurants to eat the food in, bars and cinemas and presents to buy at Christmas. And loved ones to give them to. Is that too much to ask?"
After night had fallen Hans used a piece of coal he had been saving for an extremely cold spell to black up his hands and face. Then, when all the good citizens of the Directorate should have been safely tucked up in bed, he slipped outside.
Directorate Article 27, Subsection F, 'Anyone found abroad and without official business after curfew will be treated as per terms laid out in Directorate Article 153.'1
1(Directorate Article 153, as everybody knew, even babes in their cradle, was the death penalty.)
The block that housed the Krüger's apartment looked just like his own. Even the posters on the wall next to the entrance were the same. 
    'Have you seen this man. Wanted!' 
    There was never a reason, just a photograph and a number to call and the promise of a reward for information. The 'reward' it was said was not to have your own face put on a poster. 
    Having first removed his old worn out shoes, the better to move quietly, Hans took the steps up to the eighth floor very carefully, his breath catching in his throat. He stopped at each landing and asked himself what he was doing. In his mind he could see Zimmerman throwing himself from the top of the building. And the nine others already this year. What must it be like to have given up hope entirely? 
The Krügers' apartment was neat. It had bare floorboards swept clean and all the pots, pans and dishes were stored in a tidy row above the kitchen sink. The only personal item on view was a photograph tacked to a sideboard. In it was Amelia and her mother standing on a bridge and beside them a man. His dark eyes stared directly at the camera. This was clearly a man in whom passion ran deep.
    After Hans had knocked, as gently as he could to be heard by those inside but not by nosy neighbours who might wish to report such a visit to the block superintendent, the door had been opened swiftly and he had been ushered quickly inside.
    Neither Amelia nor her mother seemed surprised to see him although at the same time they gave no indication of understanding why he was there. Some minutes passed before Hans himself broached the subject. 
    "I have come to help."
    Then, as if further explanation were needed in the face of these blank looks. 
    "To find your father. The truth of the matter is more than a form is needed."
    He spread apart his hands. It was too late to go back now. 
    "The forms are just for form's sake. If you will excuse my coarse language which I feel is absolutely necessary to get across my point as clearly as possible, you might as well wipe your arse on them after a big shit."
    Regretting straight away his turn of phrase, and in front of the little one!, Hans pressed his hands together in supplication. 
    "Come, I fear we don't have much time. You have to tell me everything."
    Coffee was made on the stove and a thin sliver of cake shared out. Only then in low whispers did they explain the facts of the case.
    One morning Zelig Krüger, a lowly clerk at the Ministry of Information, had gone to work as normal and then had not come home. He had not done anything unusual and 
he had not said anything unusual. 
    "And that's it," said Frau Krüger. 
    "Not quite it." 
    Amelia excused herself and slipped out of the room. When she came back just a few seconds later she passed Hans a tightly tied bundle of pages.  
    "We searched absolutely everywhere after daddy went missing."
    Amelia reached out a hand and pressed it against the topmost of the pages. 
    "We found these hidden under a floorboard. In the bedroom."
    Hans raised his eyes quizzically towards first Amelia and then her mother.
     "And what do they say?"
    Amelia tapped the side of her nose in the international symbol of secrecy.
    "We were hoping that is what you would help us with. They are written in a kind of code."
Read the previous thrilling part of The Long and Spectacular Life of Agnes Magnusdottir 
Read the next thrilling part of The Long and Spectacular Life of Agnes Magnusdottir 
Image is from Pixabay