Last Request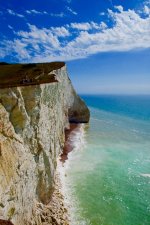 Wed, 08 Jul 2015
1 likes
Do not stand at my grave and drip

into the earth recalling me 

as something better than I was; 

I won't be there.



If I were to loiter, I wouldn't do it

in a graveyard, I'd head for somewhere 

brighter to commence my days of death; 

I'd choose for instance, peaceful oceans -



would not want a shoveled hole

with mourners dropping dirt onto my coffin,

sobbing - waling up a fuss;

I'd much prefer you laughed, 



it's less off-putting - aesthetically speaking... and 

in hopes you're thinking of cremation, 

may I ask that I be scattered on a gusty wind 

off the top of Beachy Head, or Buster Hill.



How exhilarating it would feel to fly

and fall as dancing dust

and to be part of our great universe...

Do not plan to stand at my grave and weep.