BAM! POW! WACK! BOOM!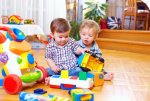 Sat, 15 Apr 2017
We are such lucky spoilt little boys
with all these brightly colored toys
in primary shades and pretty hues.
Stripes and stars red white and blue.
I've got mine and he mustn't touch.
We don't like each other very much.
Although we have more or less the same,
I don't want him to join in my game.
See my ships and planes and rockets;
robots with guns inside their pockets
and model soldiers all ready to die.
They're really cheap and so I won't cry.
This box with lights makes pretty patterns
If I push this button I wonder what happ……......