How ******* Stupid Can You Get?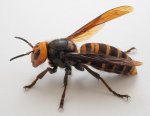 Wed, 03 Aug 2022
Is it wise to invest in prodding
the walls of a hornet's nest?
Stoking a storm of rage just to show
the world you have the courage to push
your luck with no thought for friends
with no plan for a means to an end.
You want to know how far they will fly
and how hard they are prepared to try
to get under your skin and sting your ass.
Will your arrogance lead to deathly impasse?