16. Mme. Scheherazade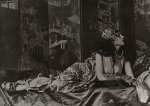 Fri, 27 Oct 2017
1 likes
What is one more djinn
in amongst the afrits,
demons, goblins and bogey
men and women with
lighter-coloured skin?
What is one more night
alongside the King of Fools,
Half-wits, Lollards and Simple
Toms and Simons with
strangely-coiffeured hair?                                                          Mme. Scheherazade will tell
her man-child stories
in the high tower
with the gold taps not golden showers.
He will listen without understanding
through 1001 nights of a potentate's more usual pleasures.
He is not Ali Baba, he is merely Sesame
- another donkey mcguffin in a ludicrous plot.
Nor is he Ali with the Large Member
- though he would like to think so.
Mme Scheherazade has few stories left:
She will save the dead girl in the chest
for last and best in hope that her Caliph
will finally understand his gland is
no more an instrument of power
than he is.
What is one more djinn,
when there aren't enough bottles
in the world to seal them in?