72. Domenique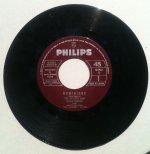 Wed, 29 Apr 2020
La Divina Sofia and The Redhead flanked Lilith like they were her personal bodyguards, though they had nowhere to hide a gun.. Sofia was in a royal blue sheath with a navy-dyed chinchilla jacket that stopped high above her waist. Rita Cansino was in bright, bright red, not always the colour for a red-head, but then she could have worn a burlap sack and made just anyone at all salivate like a hungry dog. FLOTUS was dressed in Marilyn's white dress, I hadn't noticed any air vents nearby, but a guy could hope. I'd have bet a million dollars they were all ruining the red soles of their $2000-shoes. The three of them came to a stop facing the orphans and nuns on the stairs. The Demonettes started singing 'Domenique'. The kids joined in, I guessed learning the refrain hadn't proved too much of a challenge. I hoped it wouldn't go on too long. At least it wasn't another protocol-busting 'Hail to the Lady Boss'.
The G-men guard of honour dispersed and most took post in the street outside. Crowds had gathered, only a few would be allowed inside the railings by the two assigned to the gateway. Usually, local dignitaries would have piled on one of these cutesy-pie orphanage openings, but it looked like the crowd was just going to be Joe and Josephine Public. They filed in slowly. The Feds checked IDs, but the once-over cards and carriers got really only amounted to a half-over at most. Somehow Mr D was getting a little more social distance in spite of the confined area, perhaps it was the clown outfit, those shoes stuck out a long way.
Uriel was still in the back of the Command and Control Vehicle. I didn't know what he was playing at. The Demonettes finished their tribute to The Singing Nun. Lila/Lilith was standing behind the lectern. Miss Cansino was to her left whilst La Divina Sofia stood at FLOTUS's right hand. I didn't doubt the President's wife could look after herself, but the Secret Service's hands off approach to FLOTUS's security was unusual, not to say unprecedented. She started to speak, the PA gave a squeal, but she fiddled with the mike and made a joke about government issue technology. Then she started on the usual spiel about generous donors and dedicated people like Mother Innovación, and I tuned her out. Sam Sara and I scanned the crowd.
The back of the van slammed open, Uriel shoved a bearded old man out of the vehicle. The old guy stumbled, then looked around. His eyes had the tell-tale stare. He was somewhere else, sometime else, lost in the neverland that is Alzheimer's. He was wearing a paradise waistcoat. He used to be Gee-Oh-Dee. How the Almighty had fallen.
Uriel was carrying a machine pistol. He sprayed a few bursts through the crowd. It gave me a clue who was the Earthbound and who were less corporeal beings. The ones dying were human. Things didn't look too bad, except if you were mortal. Uriel had only brought a half-dozen angels with him. I gathered the plan was blow the device right next to Lilith. She would survive, maybe Miss Cansino would too. I wasn't sure if she was a Succubus or an an Earthbound sister-on-the-make, like The Divine Sofia, who definitely wouldn't. That just left Sam Sara for me to worry about.