9. Polytheistic Litany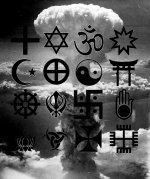 Wed, 25 Oct 2017
A canticle for Liebowitz,
a psalm for Father Baker,
a hymn for Billy Graham's son
before we meet our maker.
                                          A parashah for Cantor Green,
                                          a na'at for dead Bin Laden
                                          a sutra for apocalypse
                                          as we raze Ryōan-ji's garden.
                                                                                       We sing our trite religious songs
                                                                                       and seek our gods' instruction,
                                                                                       we kneel and ask forgiveness
                                                                                       and await our mass destruction.