Albion's Perfidy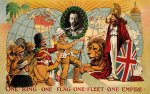 Sun, 16 Sep 2018
1 likes
We stand on the white cliff edge,
the stalwarts of Avalonia,
staring across the strait and narrow water
at Armorica.
We believe our own myths,
believe in the power of woad
-not words.
Britons, proud and free
from any perspective
but our own.
Britons:
caterwauling Catuvellauni,
iresome Icenii,
bragging Breganti:
pure of heart and intent.
Shh… do not mention
Obtuse Angles,
Selfish Saxons,
Jealous Jutes
Vicious Vikings
and those Faux French
the Normans.
All these are we,
a mongrel breed,
howling at the moon
of racial impurity.
As we head, perhaps,
into our chequer-ed future,
we will sharpen our tongues
and call it banter
- though this sense of tumour
has made us the sick man
of this still new
- yet crumbling - empire.