The Bongs of Ben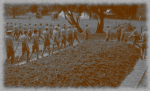 Fri, 17 Jan 2020
From a leaked communique from No. 10 containing the song to be transmitted on BBC broadcast channels on January the 31st, should the crowd-funding for Brexit Bongs fail. The BBC were warned that under no circumstances should the film 'Oh, What A Lovely War' or the television series 'A Piece of Cake' be referenced before or after transmission.
"The Bongs of Ben will ring-a-ding-ding
for us but not for you;
for you the bills ker-ching-a-ling-ling
no matter what you do!
The Poor are starv-e-ling-a-ling-ling
and Gove has victory,
the Brexit Bells will ring-a-ding-ding
for us but not for thee."