Brocken Spectre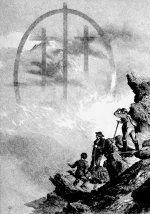 Sun, 26 Feb 2017
A towering cloud covers
the Walpurgis moon,
a sign, its fullness, on this night
of spirits and witches.
We'll straddle the fleshy
broomstick then fly astride
the birch to ecstasy.
Thirteen figures cavort
around the burning wood
throwing a giant shadow
on the lofty nimbus.
We are calling sprites and elves,
we cry and moan
as we clutch at ourselves.
Wolves howl, Minerva hoots
we trample the Burgomeister's boots.
Trumpelstiltskin,
hair unravelled
from gold into flax
sits upon the high chair.
His long shadow hides
the goblins and boggarts
though they peep out
at the light of day.
They howl at the moon
and call the New Dracul "brother"
their close-by kin are now the other.
"The silos will be full again"
the goblin-king talks not of grain.
A louring moon silvers
the mushroomed cloud,
a sign, its thermo-nuclear light,
of our bewitchment.
Footnote: The New Dracul... Stoker's inspiration for Dracula was Vlad Dracul a 15th Century tyrant in Wallachia and Transylvania... go on, you can work it out.