Bubbles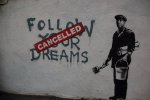 Mon, 12 Jul 2021
We all need heroes and villains:
sometimes there's a post-width's
difference between the two.
Maybe the boss has watched
Wenders's film, but nowadays
the goalkeeper's not the one who's scared
and for all the talk of knees taken,
from people whose claimed roots go deep
into this green, unpleasant land,
it's jealousy that colours the vile
bile spewed for this or that miss,
losing 'their' entitled prize.
Would they step up, pull on the shirt,
face the guardian at the gate
and gamble a golden future on the outcome?
Paid fah-zunds and can't score a pen,
I could do that – gizza job,
but they can't and never will.
Some dreams fly so, so high,
but they are bubbles
and full of hot air.