Firelight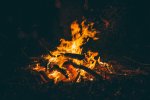 Tue, 12 Jan 2021
His fingers shook. He was fumbling at the ancient zip. Might be a false alarm. God it was cold! The minute you strayed more than a young man's piss arc from the camp fire, you felt a bone-rattling cold. A cold that froze your marrow until you thought it might split those very bones. Every one in the small camp was tempted to turn towards the fire light when letting their water flow. It wasn't done, even when your own piss arc barely cleared the toes of your boots. The tiny lights of other camp fires across the frozen river sparkled as though the stars had fallen. Maybe they had, there were none in the sky. Not since the event. Well, there was one. You could look directly at the sun now, even at noon. Through the dust.
People talked as though the dust had come a century ago. It was barely a generation. Jack had been twelve years old. One day there was electricity, the internet, television, heating and the next there wasn't. Where there had been cars and trains and boats and planes, suddenly there weren't. You couldn't get diesel out of a pump at the petrol station. Not without electricity. So, okay, there had been cars, at least for a day or two. Jack's dad had said the electric vehicles abandoned were the saddest sight he'd ever seen. He'd have seen a few things that might have beaten that since, had he still been alive.
Nobody had expected the cold. The winter that never ended. Genuine chaos had lasted barely a month. The looting had emptied the supermarkets within weeks. The optimists had stolen large screen televisions first. Jack's dad had been a policeman. He'd escaped from work after two weeks. The Assistant Commisionner had bitten off the nose of a man he'd arrested for stealing a cauliflower. Sgt London had picked up the brassica as it rolled past his boots and run home with it to the flats in Upper Edge.
Chaos became a cold hell, with no stop off in purgatory.
Barter came along eventually. After the stealing slowed down. With all the masks you couldn't tell the person who would stab you for your puffa jacket from the one who was looking for a missing relative. The masks weren't just for the dust. In those days the smell was terrible. A cadaver on every corner, sometimes whole piles of rotting bodies. People died in their millions, they said. How could they know? They died from a cut, gangrene, sepsis, or not having any insulin. They died in hospitals, in care homes, in lonely flats, in footballers' mansions, down dark alleys and on the street. Jack knew what had killed them. The dust. Volcanic dust. Almost everyone agreed on the nature of the event now. Those who lived on the coast told tales of how a Silas Wintergreen or a Bill Frost had sailed a topper dinghy to Holland and never come back. There were fights about these fables, between those who thought he'd stayed because there was no dust on the continent and those who believed he'd died on the way.
He'd had a conversation some time ago with a man who claimed to have been a university professor. The wispy-bearded ancient had explained how the dust was the result of a volcanic winter event and that the earth's albedo had changed. That was why it was most likely the same everywhere.
'Does it matter?' Jack had said. 'Even if it isn't, we can't get there.'
'We will one day. It's been done before.'
Then the man had come at him with a knife. The smell always gave them away. The breath. Jack was surprised there weren't more cannibals. London had killed The Prof with his own knife. He still carried it for luck.
He struggled to zip himself up. No more than a few drops. He felt old. Tired. He went back to the camp fire and wrapped his skins tight around his body. No-one moved. He wondered who would die tonight. Perhaps he would.