First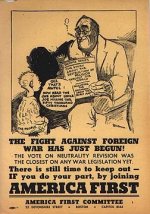 Fri, 27 Jan 2017
"They, them, the rest, the others,
all the ones who aren't our brothers,
keep your tacos and Subarus
-look out for your name in the next fake news."
We will march in goose-step,
backwards, eyes right,
(always right, I am always right
the most right, the best right…
beautiful…)
We earn our demagogues.
He is no orator,
it is the repetition
that mesmerises…
"Trust in me, trust in me"
a sibilant hiss gave us some warning,
but we knew better
'til our fears arrived, one fine morning.
And here we are, in the same place again,
we change the words, but the ideas are the same.
Safe areas, concentration camps?
No price too high for others to pay,
to keep us safe,
to keep us rich,
to keep us first.