Ghost Furniture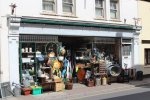 Mon, 14 May 2018
Hautboys, occasional tables,
chipped chippendale
imitations - out of place,
out of doors, on the pavement,
outside Harrison's Butchers -
as was - before Ocado
slaughtered them.
Torn vinyl, seventies sofas
two-and-a-half-piece suites,
not so much sprung
as ham-strung -
not even an old ha'penny
hidden down the back,
since it's post-decimal
upholstery.
There's always a cooker,
electric, grill-over-oven,
under the hob,
traces of grease around the
half-turned knobs
all set at different
temperatures.
Radiograms, hat stands
faux elephant's foot
with no umbrellas
and no purpose -
no more than the
nests of tables
empty of their
ashtray nestlings.
Joe's in the doorway
thumbs in his waistcoat
like that man on the telly;
it'll be time to move
it all inside soon.
On the wireless
inside someone sings
about a brilliant mind.