Gibbous House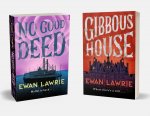 Thu, 27 Mar 2008
I had no sooner buried my wife, than I received a summons to the reading of her late Uncle's will. Truth to tell, I was not a man brought low by grief. Numb and distant, perhaps. Three long years of watching death's shadow hover had sucked compassion from my soul. Although I was not aware of any expectations that Arabella might have had; a trip to London, to the Inns of Court, seemed a pleasant diversion.
There was no particular that day, just the fine rain more insistent than any thundershower. The streets were as wet as I and the mud and pure smeared a noxious dubbin on my boots. Carriages slurped by, the street vendors cries were muted by the moisture in the air, dampened. I turned into Hawthorne Lane. Number 15 was not in the best of repair; only the stout, studded door seemed to have received maintenance, the timber being oiled, the handle and knocker gleaming in spite of the weather. A brass plate fixed below the knocker read simply
"Bloat & Scrivener"
I was not even to meet with a partner, as the lawyers' letter instructed me to ask for a Cartwright, sans titre. I gave the door a firm rap with the knocker. Scarce had I loosed my grip but the door opened.
"Moffat."
It seemed neither question nor invitation, but the speaker drew the heavy wooden door aside and motioned with his eyes. I entered a dark, narrow hallway.. Sconces held unlit candles, I had not expected the newly fashionable gas lighting, but the gloom was dispiriting. The faint smell of damp decay lingered even after I brought my kerchief to my nose. I followed my less than garrulous guide down the corridor. Abruptly, he stopped and dealt a murderous blow to a door seemingly ill-prepared to receive it. Then he turned the knob with a delicate twist of his fingertips and melted away.
'Come in, come in' came the enthusiastic, if reedy cry. 'Ye'll be Moffat, then'.
I recognised the Scots accents of my native Edinburgh , though mine own were long away; a most peculiar voice; high-pitched, with unexpected modulations, as if a moderate student of the bagpipes were practising on his chanter. No less odd was the man himself. He might have been of middling height, had his lower limbs not revealed a childhood diet like that of the worst slum-dweller. His head was uncommon large, the forehead bulging forth made his hairline seem to recede though it plainly did not. I warrant looking directly down at his head from above would have revealed an elongated oval. His nose was hooked and his chin curled up, as like to meet it. Were it not for the striking blue innocent eyes, he would have been the very image of a singularly malevolent Mr Punch.
He introduced himself as Cartwright, though of course I had guessed as much. Wishing me good morning, he pushed a meagre pile of papers fastened with a grubby, once red ribbon.
'Thaire ye are, it'll aw be thaire'
'But Mr Cartwright…' I began
'It's Cartwright, naw but Cartwright'
'Well. Let it be so, but I understood there was to be a reading of a will'
' And for why? When ye are the only fellow these papers concairn?'
'And ye'll no be reading them here!' he added curtly.
With that he ushered me out: laying not a finger on me, he propelled me all the way into Hawthorne Lane as if by force of will from under his enormous brow.