Gunslingers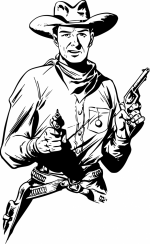 Wed, 01 May 2019
The air smells of cordite,
bullets fired in the same old argument
inflict the same old wounds,
without quite killing us off.
I'm the fastest
lip in the West;
quick on the draw
short on the temper;
still in the wrong.
The blood in the dust
dries in crusty patterns.
If we ever shoot straight,
maybe we'll decipher them
more easily, from close range.