Hardly Any Degrees at All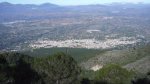 Wed, 16 Jun 2021
Living in a small town in Andalusia was different. In some ways it was like small town life in Anglo countries 60 years ago. There were always many fewer degrees of separation than six. For example, I taught "Enrique VIII"'s son for a few years. Now the reason he was in Brazil, I later found out, was that he was the key witness in the then Mayor's corruption trial. I know. Nobody was sure if he'd been paid to leave or someone gave him a more pressing motive. Said mayor carried out some of his duties from the jail over at Alhaurín de la Torre, for a while. Then they let him out, so he finished his term. The election after next they voted him out and we got Toñi, our town's first female mayor. She was always pretty squeaky on the clean front.
People always made excuses for the old mayor. As you might expect, the corruption involved property and the development thereof. It always does, the world over. However, our guy steered the town planning office – note, it isn't, or wasn't, a committee – toward certain projects. The story was that no money changed hands, the mayor would approve your development project for thirty flats, say, IF you resurfaced the roads in the Barrio, or put streetlights in the sidestreets off the main drag. I liked to think that some of it was true, at least.
Anyway, about three years before I left, I started teaching a young couple. They were 23 and running an architectural and interior design business, in Coín, rather than Alhaurín. Intelligent, good-looking and really, really nice. Reliable too. Probably the only clients who never missed a class without at least two hours notice. Some clients, Álvaro son of "Enrique VIII", for example, were just not home on occasion. I'd wait fifteen minutes after the class's official start and drive my right-hand drive Ford Ka, 'La Rana' as some clients called it, into town and have a beer.
One day, Maria T___ said her brother would like a few lessons. As usual, she gave me chapter and verse, her brother was a musician doing covers of the old songs the Costa Crew – average age 70 – liked, down in Torremolinos. He was good though. He just wanted to improve his English, so he would know what the lyrics to 'Copacabana' meant. I hoped he wouldn't be disappointed. So Maria T___ got around to telling me his name, eventually, and I said hey that's a famous name from the news, as it was the name of the disgraced mayor.
'That's our Uncle Juan,' she said.