Inhumane Bondage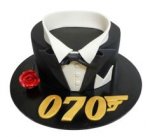 Mon, 04 Nov 2019
2 likes
James is most likely in a City bar
earwigging 'manipulations'.
No more dead drops, or midnight kidnaps
or running through Bulgarian stations.
M's given our boy an I-gadget,
for bureaucrats' on-line indiscretions.
No more honey - or money, come to that-
for diplomats' Ugandan discussions.
No training on garotte or PPK
- Just spreadsheets and data bases.
No martini shaken or even stirred
No girls with exotic faces.
If he were a horse they'd put him down
he couldn't manage a canter.
He misses the days of Pussy Galore,
and inappropriate banter.
Not so long to retirement now,
Barbados would be heaven,
a long cocktail and a girl to tell
he used to be double-oh-seven.