Into the Marvellous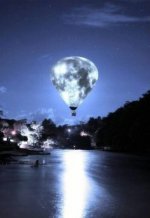 Thu, 07 Jul 2016
Untie the rope,
wrap it round your wrist.
The balloon will rise,
a new moon at midnight.
The stars look down
and city lights look up:
we float between them,
reflecting twice the glory.
We follow the river,
through the city,
crenellations to the left,
brutalism to the right.
History fires arrows
at the future
and we watch their flight:
they fall short, ignored.
Our simple blimp
soars over Prague
or Budapest or Sofia:
we flee the Occident.
We pull on the rope,
turn towards the sunrise:
moving air moves
our captured stillness.
The dirigible's course
is easterly
to the yin and yang
- into the marvellous.