Other Names Sound Sweet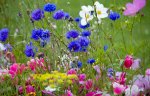 Thu, 24 Mar 2016
1 likes
Heartsease's violet colours the grass:
it does not ease my heart or tickle my fancy,
though I fancy I see three faces in a hood,
would you like to come and cuddle me,
enjoy our love in idleness?
Do I see hurtsickle, by and by?
Cornflower in my button-hole,,
my bachelor's button attracts
blue-bottles and I wish it
still attracted you.
Nigella smiles and there is
love in a mist
a devil in the bush
no ragged lady this,
Miss Jekyll and her Persian jewels
proud as oxford blues.