The Picture Ranch 24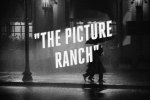 Fri, 26 May 2017
In between burns and screams I tried to catch Eleanor G's eye, but she'd twisted her neck as far as it would go. Maybe she liked the boxing posters peeling from the wall. I heard the crash of the door opening behind me, saw Miss Gräfenberg's head snap round and heard the brrp of a Thompson. I was praying that Boethius would step backward rather than closer. "Randolph" Scott laid his gat on one of the pool tables and raised his hands. Dzherzhinsky was looking from Boethius to whoever had come in behind and back, his gun was still in his hand, but he was aiming at the floorboards. Boethius did step back, but he threw the cigarette at my crotch. By the time I'd shaken it off, it had burned through my pants to my skin. All three goons had their hands raised by this time. The Russki was hoping to ventilate the tin roof.
Brrp! The Thompson made a couple of holes of its own in the tin. 'Put it down, Ivan!' a familiar voice said. Dzherzhinsky dropped the pistol, it landed on his foot and went off. The round could have gone anywhere, but it creased Scott's derrière. I laughed: it hurt, but I didn't stop.
Schultz stepped into view.
'Fisher, Fisher,' Schultz was shaking his head. 'Why didn't you tell him?'
I couldn't answer, I was too busy throwing up by then. Schultz waved with the Thompson,
'Youse three, backs against the bar.'
They complied.
'Listen, Schultz, you don't get it. It's-'
'I will get it, Mr Boethius. I will.'
Lipowitz moved into view, slow as a tired hippo. He untied Miss Gräfenberg with equal deliberation. This meant he had his back to Boethius and his goons, but they stayed put. The big Polack let me loose and I took a couple of tries at getting off the chair. In the movies, Miss G would have thrown herself into my arms, but then nobody in the movies was ever covered in spew and piss.
'You let him get it?' she said.
I didn't know if she meant Boethius, Schultz or both, but I said 'Yeah.'
Schultz roughed Boethius up a little, recovered the deeds - minus the two pages I'd left with Henry in the Encino Store - and had Lipowitz pick up the three stooges' discarded hardware. Then he nodded at Eleanor,
'Your friend can drive. Maybe you better sit in back. We'll be right behind you… all the way to those missing pages."
Miss Gräfenberg shook her head at Schultz.
'Fisher and I will be stopping off at RKO. He needs to clean up and get a change of clothes.'
She made an almost military turn and I followed her out to the Ford. I hoped RKO had something suitable in production, I didn't want to end up King Kong's monkey suit or Fred's top hat and tails.