The Picture Ranch 55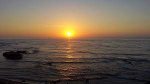 Wed, 10 Nov 2021
I turned down the offer of a ride home. LA was two hours away in a car that hadn't destroyed its suspension on a dirt track. Top Houlihan drove the drop-head coupe back into San Diego. He left the car at a fire hydrant outside the fancy-schmantzy house where the civic reception had been.
'Nice place,' I nodded at the house, not a light in any of its twenty four windows.
'I knew it would turn out a lousy party, it's only four a.m.' Houlihan said. 'How will ya get back to LA?'
'Another favour.'
'Maybe you'll run outta favours one day.'
'Not this year.'
'Best of luck, Call me if ya wanna go on the toot and swing the old lantern. Hell, I'll even buy. Just don't call me for any more favours.'
He stood watching as I walked away and then he turned to walk in the opposite direction, like it was a metaphor for the way our lives had turned out.
I stood for a long time by the side of the US-99 with my thumb outstretched, before a flatbed truck carrying nothing at all rolled to a stop thirty yards ahead. I jog-trotted alongside the blacktop until I reached the cab. By the time I got there the door was open and the driver was staring through the windscreen at the dark night sky.
'Gonna get in, Fisher?'
The guy looked about fifty and not like anyone I knew.
'Where ya goin'?'
'LA, The Picture Ranch. Any good to ya?'
I figured there'd be time enough to ask him how he knew my name in the four hours the ancient flatbed would take to reach Irvine, never mind Encino, so I climbed in.
Five minutes hadn't passed before the guy said it. I was just dozing off. 'Ya don't recognise me, huh?'
'I'm so tired I wouldn't recognise myself in that rear-view mirror.'
'It's been ten years maybe. You ain't changed much. Bit a' beef around the middle. You walk the same. Can't change how you walk, unless you lose a leg. I was at the depot, before discharge. You wuz there too. I seen ya. Maybe ya didn't see me. I wuz a career PFC, got a stripe once 'r' twice. Easier lost than earned, like most things.'
The pink elephants were dancing. Then I woke up. The guy was still talking. It must have been lonely on the road, driving along with the dawn on your right and the night on every other side. I grunted in reply to whatever it was he said last.
'Ya think?' I said.
'Maybe,' he replied.
The man turned to look at me and I recognised his face at last. He was a nogoodnik. Every barrel has its rotten apple and the Marine Corps was no exception. Flynn had been beaten up more times than he had been busted in rank. He'd sold rations. Played the medics like a church organ. He was one of those guys that Marines talked about from Shanghai to San D. Even if he wasn't known personally to you. The name would come up and the stories would come out. How he'd "lost" Corps property, more than once. Even a staff vehicle, one time. The Major had been in a roadside brothel for an hour, Rogers had gone to see a man about a horse behind the outhouse.  When he got back the automobile was gone. The Major spoke for Rogers during the investigation, although the brothel had been transformed into a gas-station for the record. The officer received a transfer to a Naval coaling station in Cuba called Guantanamo, for his trouble. It was a captain's post, but they let him stay a major. He was probably still there. Nobody knew what Rogers had done with the money.
Rogers changed the stick shift down and took his foot off the gas. I figured I must have been asleep for around an hour-and-a-half. The Pacific was reflecting a little of the sky's red sun-up stain, so that put us short of San Clemente. I couldn't see a building for miles. By the time the truck had rolled to a stop Rogers was pointing a gat at my face.
'I'd say that someone says hi, but I got no idea who wants ya dead.'
'Might could be a half-dozen people.'
Rogers waved the gun, 'Git out.'
I did. Rogers
shuffled across the bench seat of the cab. The gun's muzzle wavered a little, but not enough for me to try any "funny business", as they like to call it in the movies. He waved the gun again,
'Let's take a walk on the beach, Fisher.'
I walked towards the coast, Rogers's gun rammed into my spine. It would be light in ten minutes. We'd both be squinting soon, if I could keep him talking long enough.
'Say, Rogers, what didja do with the money for the staff car?'
'No money changed hands, Fisher.'
'What, nothin' in it for you?'
'I didn't say that.'
'What then?'
'I got payment in kind.'
'Huh?' I knew what he meant, but I had to keep him talking somehow.
'The major got transferred. I didn't.'
'What happened to the car?'
'Hell if I know, I never saw it again. Still gettin' my money's worth at the cathouse, you betcha.'
I swivelled at what I hoped was the right moment and pretended to trip. Rogers stumbled and I was behind him. I threw up my arm. Rogers was looking directly at the sun for a second and I fell to the sand, grasped a handful, then threw it upwards. The gun went off. I swept my leg around hard and struck the side of his right knee. He buckled. I got to my feet and kicked him in the face. Rogers's luck had already run out. He'd caved the back of his skull in on the only rock on a hundred yards of beach. I dragged him to the water. Maybe, when the tide started moving out, so would he, but that would be in a couple of hours time. So, I dragged him ten yards or so in and then swam out thirty more with Rogers in a live-saver's hold. It probably was saving mine, at least for a while. The bordello's profits would be going up soon.