Rust and Barnacles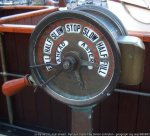 Mon, 25 Feb 2019
We are all aboard RMS Titanic II,
the gangplanks have been hauled up.
Bemused Jean-Michels and Annikes
wave us off, heads shaking.
Those in steerage are shaking fists
at those in port side cabins;
there'll be no starboard home
requirements, sadly.
 
The Master Mariner looks for'ard,
confident the Iceberg will give way.
Boris and others grapple over
the leaver's lever
but the needle
never deviates, reading
"Full Steam Ahead",
as it has
since casting off.
 
The band plays on,
until the final note.
Which of us
will mutiny first
on this Ship of Fools,
held together
by rust and barnacles?