There, At the World's End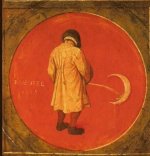 Thu, 30 Mar 2017
There, at the world's end
we'll stir tea with coffee spoons,
eat cress and blue-cheese sandwiches
in the fading afternoons.
We'll conduct a choir of mermaids,
in the songs we always sang,
listening for the whimper,
for we dare not risk the bang.
There'll be no Little Gidding,
and no cricket on the Green,
we'll wish for parish broadsheets
and politely vented spleen.
Just beside the final shore
we'll curse in fluent Walloon,
and watch the last of all humanity
idly pissing on the moon.