Twice In a Lifetime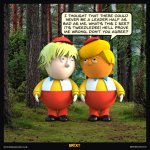 Sat, 02 Nov 2019
You may ask yourself,
how did I get here?
But I know that I
was driven by youth
and blind ignorance.
I'm letting the days
go by, speedy and
unmarked like police
cars chasing the young
and knife-armed foolish.
Same as it ever
was, before our votes
elected dunces
in confed'racies,
to rule over us.
Twice in a lifetime;
we get fooled again,
the same old boss is
grinning from the TV
with a clown's haircut.