Where is the Genius?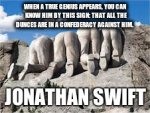 Thu, 27 Jul 2017
As Jason declares
he was taken unawares
by his own presence in a meeting,
our surprise, though great, is fleeting.
As Donald announces,
when the senate pronounces
that his own guilt seems incontravertible
he says to his son, a pardon, like dollars, is convertible.
And Donald believes,
in America's greatness,
in an all-male army – of volunteers -
any draft, like a draught, is uncomfortable.
And Donald believes,
that others are wrong
and that he is the one
against whom the dunces are railing.
But the Confederacy is his own,
of witting and unwitting fools,
with an entire race of dupes
believing that they should go
if Donald builds that field
of dreams
where America used to be.
As no-one believes,
in Whitman's leaves:
in a desert of Trumpian drivel,
we wait for our dreams to shrivel.