Who Indeed?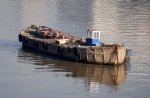 Wed, 21 Mar 2018
Who wished for days like these?
When what we can imagine
is outstripped by reality.
Propaganda has moved
from Leni's balletic black-and-white
to binary digital
photo-op fish drops
on the waters of the Thames.
Who grabbed the monkey's paw,
snatched that from a djinn,
instead of a tarnished lamp?
Fake news, hake news,
fishing for competence
with an internet,
setting a pratt
to catch a mackerel
– WE ARE NOT FOOLS.
Who slipped these dense Pierrots
the ringmaster's hat and tailcoat,
instead of locking them in the lions' cage?
Pratfalls not politics,
let us eat custard pies,
while London burns
the heirs of Craggs the Younger
fiddle on, and not
a note is played.
Who indeed?