The Year of the Golden Pig 2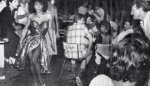 Mon, 01 Oct 2007
I looked at Beaudelaire steadily. Keep quiet long enough and people fill the silence; try it, sometime.
'Was… no! Is!' He blurted.
'Why are you looking for him here?' The answer was obvious; I felt cruel for making him say it.
'He's … working here.' He bit the words off, afraid of what he might reveal.
'I don't think so. I have business down here. There are no Euro kai-tais, not on Bugis Street.'
'My son's mother was Malay.'
'Do you have a photograph?'
'Yes, here….'
He pulled out a bulging wallet, not a good move here. I said nothing while he retrieved a passport-sized photo of someone aged about 17. Male, of course. Something feminine about the lips perhaps, and all the features very fine. He'd have been popular with some people I knew at the High Commission.
'Wait,' he handed me a good quality business card. Stiff, gold-leaf on the edges.
He was Far East Director for a company I'd never heard of: Import-Export. Could have been legitimate, I supposed.
'If you find out something, in the course of… business.' It fell between a question and a statement, and indicated that he knew more than I wanted him to about my business. He stood up, crisply, certainly not drunk. As I watched the dark patch on his shirt recede, I put his card and photograph in my pocket and forgot them.
Kate turned at last to look at me. I winked. She turned away. No matter, it was time to check out Tokyo Rose's. This was a nightclub on the very edge of Chinatown. Popular with GIs on R and R from village burning and the more adventurous Tommies; certainly the tri-service spooks at the High Commission liked to go. The name was a lure for the Yanks. There was nothing authentic about it: the GIs expected a Japanese-style happy house and got a seedy clip joint with a floor show that would have closed any Soho establishment. Which was why the damn linguists were always there.
The bouncer let me in; didn't even show my warrant card, he just waved and smoked on. Only one spook that night: Harry Wilson, an Air Force senior NCO. I sort of liked him; as much as you could like any of them. Unmarried, he made no bones about his visits to places like this. He claimed if he was open about it all, he couldn't be blackmailed. And he had a point: but my superiors didn't like it. For myself, I believed the people to worry about were the grey men, the ones whose security interview transcripts read like a job reference.
'Here already, Harry? Quiet in the Commission Bar, is it?'
He snorted. 'No, full of the Colonel's half-wit relatives, over here freeloading the duty free gin.'
The Colonel was the Military Attaché. He'd arrived at short notice a few months ago after the RAF Wing Commander had been sent home for 'health reasons' : as if homosexuality was a disease. I suppose it was, in the Military. The cure would have been a bit more drastic for an enlisted man, most likely. At least it wasn't the Navy's turn: a Naval Attaché meant a clean sweep of all spooks and military staff in the High Commission, the Navy liked to be surrounded by their own. A lot of work for me and my colleagues; Jack Tar in a shore-side billet in a place the deep sea boys knew well, some better than I did. I left Harry watching the stage: a girl was peppering the front row with ping-pong balls. She didn't have a bat.
I just couldn't be bothered. I hailed a taxi. Mercedes, of course. Take a Toyota Crown and the fare could be higher than you wanted to pay - and awkward at a hospital or police station. I was going to my rooms above Wing Wah's Tailor's on the Bukit Panjang Road. This was not far from RAF Tengah, as we still called it, although the Singapore Armed Forces owned it now. Officially, I lived in the Sergeants' Mess in Tanglin Barracks over in Queenstown. This was more convenient. I spied on our own for a living; I wanted no-one spying on me.
Sitting in the cane chair, I sipped a Highland Mist and wrote Baudelaire up: just for practice really – memory and note-taking. You couldn't be waving a notebook around while talking to people downtown. The servicemen all knew who you were, but you didn't have to rub their noses in it. For the most part, each pretended the other wasn't there, however often we met in the same places. I fell asleep, eventually, in the chair.
Stiff and sore, I piled into the Humber Super Snipe IV and headed for the office. The car was my one indulgence; not a speck of rust on the bodywork and 125 bhp, it coped with everything from the mad dash of Orchard Road to the tracks by the kampongs. I'd bought it cheap from an FO drone who'd had it from new, but didn't want to ship it home. I pulled up at the Fort Canning gates, Singapore Armed Forces Supreme HQ: it stood off Orchard Road. We maintained a pair of tiny offices there, ostensibly to keep the SAF up to speed in anything they should know about. We used it for all of our operations: before '71 we'd had our own building on the acres of real estate that had made up Brigade in Malaysia HQ. We had another office at ANZUK HQ at Changi; but that was only to liaise with the colonials and we did little enough of that.
I knocked on the Captain's door, waited for the pretentious 'Enter'.
'Ah, Warrant Officer Law. Good. Sit down.'  And this before I got to the 'shortest way down' of my salute.
'Got something here for you. Made a note. Ah, yes… Singapore Civil Police 'phoned. Asked for you specifically. Not been up to no good have you?'
He laughed nervously, aware of how bad it would look for him, if I had.
'No, Sir. No idea what it's about, have you?' He'd had his 'sirs' from me, today.
'Hem, Can't say, Mr Law. You know.' I knew he didn't know, at least.
I saluted and left him to his pot of tea.