The Year of the Golden Pig XVIIII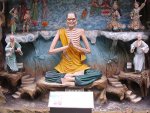 Fri, 26 Oct 2007
It was about five. Jimmy was late, I'd told Jenny Diver to tell him half four. I looked up at the garish plaster statues; here a screaming rictus, there an impaling - the Ten Courts of Hell filling the mouth of a 60ft plaster dragon. The first time I'd been there I kept trying to work out how on earth Bosch had managed to see it four and a half-centuries before it was built. Two brothers who'd made a pile with the Tiger Balm heat rub had built this crazy mythological Disneyland in 1937. Over a 1000 statues in 150 dioramas depicting, promoting and simplifying Chinese traditional values; the brothers made a huge fortune bigger with the $10 Singapore entry fee they charged. The park was on the Pasir Panjang road and the heavy traffic from the Port Authority's wharves could be troublesome at rush hour. Maybe that's why Jimmy was late.
'Looks like Crosby, Horse Face, doesn't he?' Jimmy said from behind my shoulder. I was still staring into the mouth of the Hell Dragon.
'Who's that on the other side of the condemned man?' I asked.
'Ox-head. They bring the dead before Yanluo, the Lord of the Underworld. You know, for judgement.'
He pointed at the figure on a throne, wearing a cap, like a toque. I wondered why Inspector Lee didn't do the same rather than affect that helmet of a hairstyle. Could have been he'd noticed the similarity himself.
'Got here eventually then.' I looked at him coolly.
'Yeah, well. Had to make sure I wasn't followed.'
'Why would you be? Anyone said anything?'
'Not about you Lawman. Lee called our office, asked to be informed if you got in touch. That's it.'
'No wanted posters, radio bulletins?'
'Not for you, anyway. What's up Marsh?'
'What have you heard?'
I watched his eyes slide away to the side.
'Not much. Some Canadian's dead. You spoke to him. Your friend Harry Wilson's dead too and that's the reason I didn't see your car parked nearby.'
'That's about all I know.'
Jimmy looked up at the Ten Courts again:
'Yanluo's on the Hell Bank money, you know. The money the Chinese burn at funerals.'
It was turning cool. Night fell quickly at this time of year. I shook out a cigarette, offered Jimmy the packet, although I knew he rarely smoked. I lit mine. Handed him my zippo. He turned it over in his hand, hefted it.
'Simple, but effective. American technology. What's the crest?'
'USMC PROVOST.'
He lit up and handed it back.
'Yank Marines police? A gift, hey?'
'Something like that.'
'The Yanks like things simple, don't they?'
He blew two jets of smoke out of his nostrils.
'I've heard the Canadian was looking for someone. A muffadet.'
'Yeah, a sister.'
'We had a visit, yesterday. Crew cuts, skinny ties and baggy jackets on the suits. US Embassy staffers they said. Your name came up.'
'Really? Why was that?' I didn't expect him to say.
'Well,' he sucked his teeth, like a mechanic about to suggest an engine change. 'They said you'd best keep out of it.'
'Out of what?' I raised my eyebrows.
'They didn't say.'
He nipped the end of the cigarette and dropped it in his jacket pocket. Perhaps he just didn't buy cigarettes.
'Take care, Marsh.'
And with an ironic salute for Yenluo and his strongarm boys, Horse Face and Ox-head, he left.
I walked out onto the Pasir Panjang, flagged down a tri-shaw. The sinewy fellow on the moped could have been 30 or 65. He smiled or grimaced or proudly showed me his one tooth when I said 'Chinatown.' A Straits Times was tucked down the side between the seat and the apology for coachwork. I settled back to read. There was a picture of the USS Enterprise, The Big E on page 2. I checked the date on the paper. 2 days old. The US Navy's Nuclear carrier had docked last night. I tapped the tri-shaw man and shouted Tokyo Rose as loud as I could. I thought I'd ask some Yanks about Jane. I might get more from possible customers than her competitors in the Bugis Street trade.
It was the same bouncer at the Rose. A corner of his mouth twitched behind the veil of smoke. It was a welcome of sorts. Hirohito was at the bar scanning for trouble. The Big E usually brought its share of trouble to places like this. Tokyo Rose's was a black haunt. Just like on the carrier, certain places were denied to the wrong colour; but some of the rednecks felt that these rules didn't apply shore side. The Navy Provost - or Shore Patrol - spent most of the night keeping the adversaries apart. Early for a nightclub - for most people perhaps, 7.30 in the evening. Not for Navy personnel, US or Royal.
The Rose was packed: the Yanks loved a bit of ping-pong.