The Year of the Golden Pig XX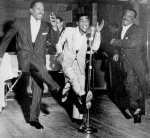 Sun, 28 Oct 2007
I approached 'Hirohito':
'Evening, Mr Yao. Busy early, hey?'
'I do not complain, Mr Law. On business?' He raised his eyebrows.
'I don't take my pleasure here, Mr Yao.'
'Can I help you?' I doubted it.
'I need to speak to the customers. I'll show my badge. Once they know I'm British they'll co-operate.'
'All crows are black, Mr Policeman.'
I gave him a look.
'Perhaps all white faces mean trouble for them.' He jerked his chin towards the tables. Perhaps it was true.
I walked towards the nearest table. Cheap furniture for a cheap joint. I had my warrant card held out in front of me. The 3 black guys of various shades looked at each other, braced for fight or flight; whichever the white guy chose to make it.
'No trouble, British MP. Just some questions.'
The two bigger men turned to the slighter, lighter figure: pencil moustache and pomaded hair -like a zoot-suiter from the 40's. He nodded. Kicked a chair toward me.
'Siddown, Whitey.'
'Master Chief Petty Officer Law,' I said giving him a rank he would understand. 'and you are?'
'We don't use rank in heah. Like th' Enlisted Club, yeah?'
'Look, I told you: no trouble.'
I could see his rank on his arm. E-4, about equivalent to a corporal. He looked a little old for it. The two bruisers outranked him. The US Navy were allowed ashore in uniform, then. It made them easier to spot. Although, of course, the black guys stood out in Singapore anyway.
'No, I kin see you won't be no trouble. No trouble a-tall.'
He laughed and blew smoke in my face.
'You go to Bugis Street?'
'Not tonight, not yet.' He said.
'Ever been?'
'Ever'one's been, jes' depends if they goes back, don't it?'
'Do you? Go back, I mean?'
'Naw. I like my meat white and I ain't keen on vegetables on the side.'
He slapped his thigh at his own joke. But it did show he wasn't a customer of the Kathoey. There were quite a few pre-ops, but they were careful about what services they offered. A drunken, selfish sailor would quite possibly never know they'd had sex with a man. I was about to get up, when he leaned over, touched my arm:
'What you wanna know? Mebbe I kin help?'
It sounded like hep. He looked like a hep-cat.
'I don't think so.'
'C'mon, try me.'
I showed him the photo.
'Pretty boy. Or is he a gal now?'
'Maybe she's dead. I'm trying to find her.'
'Jerome,' he addressed the Sergeant on his right. 'Go get Julius. He be next to the goddamn stage, ready to catch those damn balls in his mouf.'
His superior meekly did as he was told.
Then he held out his hand:
'Wilbur Williams. That short fo' Wilberforce. Funny, huh?'
But I could see he didn't think so. I shook his hand.
'Marshall Law.' I shrugged.
'Now that's funny!'
And he gave a real laugh, a clear tenor bell of laugh, I would have bet women loved that sound.
Jerome came back, a hand holding on to Julius. He hadn't quite frogmarched him over. He looked pleased with himself.
'Sit Julius. Talk to the nice Lawman.'
'What you wan' me ta say, Wilbur?'
'Jes' let the Lawman ask the questions.'
I looked at Julius. Jerome was big, but Julius was vast. I tried to picture him in an aircraft carrier bunk. It would have fit like a glass slipper on Griselda.
'You go to Bugis Street?'
'I like Boogie Street, yeah. I like to Boogie with the sisters.'
He looked at me sharply, or as sharply as he knew how.
'You the Lawman? I heard 'bout choo. Yes I did.'
'What do they say Julius?'
He looked embarrassed, looked at Wilbur, who shrugged.
'They say youse an honest Lawman, but yo' shore is dumb.'
I looked embarrassed.
'Well, Julius, I'm trying to…how do you say it? Trying to wise-up? Starting now.'
The photo was still on the table, spilled flat beer had soaked a corner of it, curling it upward. I pointed:
'You know this person?'
'Look like Jane, on'y diff'ren'. I see Jane las' time in Singapore.'
'Jane who?'
'Jane who had a boyfren.''
He gave a savage nod, all the way back, all the way down.
'What d'you mean?'
'I on'y paid her onc't. Ever' time I ast agin she say I got a real boyfren' now. White boy frum the Em-bass-y.'
He drew it out as if it were the name of an exotic port he'd never visit.
'You have the boyfriend's name?'
'He white, why'd I care?'
I thanked Julius. Wilbur jerked his head for Jerome to escort Julius back to his ringside seat. I got up, was shaking Wilbur's hand:
'Just one more thing, Wilbur, you ever meet Harry Wilson? He used to come here.'
Wilbur laughed again. It sounded different. I hoped women never heard that one.
'Harry. Yeah, we all know Harry. How you think people like Julius get ta meet girls, boys and those inbetweenies? Guys like Julius caint find they asshole with both hands. They need people like me...And Harry Wilson.'
I thanked him. As I went out into the night, he was still standing, watching me leave.