Curiosity 2004 Recycled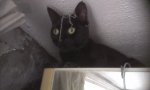 Sat, 30 Mar 2019
Curiosity 2004 Reycled
The psychology of Tali our family cat will remain a mystery we will never unravel or come close to comprehending.
Philosophers down the centuries have pondered, speculated and even preached on the inner workings and thoughts of this most independent and enigmatic of creatures.  We have a number of their thoughts as recorded in poems, prose and analytical disassembly and many of them I would even agree with – mainly because I want to.
Tali and the family (in particular my wife) have a symbiotic need for each other and it is not always clear who is bending their will to who.  Back in 2013 we decided after five years of virtual mourning to seek another feline companion.
We determinedly sought two cats from the local rescue centre; our raison d'etre' was one would companion the other when we were not around.  We came away with one; a black cat who literally chose US.  She leapt onto my son's shoulders and began to nuzzle him.  The centre worker was startled as 'she NEVER does that!' but she had and in that instant she and we knew the future was going to be spent together.
Her understanding of my wife's torrid time of workplace bullying and the devout attention she gave unconditionally to her was of significant proportions.  Each night she would pace restlessly at the front door and pour love all over her until my wife was rested and restored.  She still possesses an uncanny sense of need in others.  An instinct that we sometimes label and quantify is subliminal and far beyond adequate explanation.  In fact to quote Shakespeare (loosely) 'There's beggary in love that can be reckoned'  
I wrote a poem called 'Curiosity' fifteen years ago and challenged myself to revisit the title and the subject from an entirely new angle.  What better place to start than at home with the furry enigma who is indeed curious, but like most cats, curious on her terms. We have the usual collection of yellow eyes peeping from dark closets and when it comes to sleeping she is the house champion at hide & seek…
Most caring pet owners dote on their animals and we are certainly no different.  The saying 'dogs have owners, but cats have staff' is complete in it's accuracy in our house.  We have been summoned before Kitty Council on more than one occasion for failing in our duties.
Curiously, we love it.