On The Ground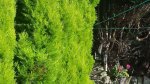 Sun, 12 May 2019
1 likes
On The Ground
The only thing troubling me this warm summer day is that my garden needs a haircut.  Up in the heavens white fluffy clouds scurry across the sky, careful not to spoil the cornflour blue that so pleases my eye.
Do I cut the grass?  Maybe I should I ask the sheep across the road to pop by for lunch (and dinner if I'm honest) or fix my gaze upon the firmament that so pleases me today.  I am feeling deliciously lazy and more importantly happy in my temporary solitude. I'm reclining on a garden bench, placed strategically in the corner by my wife so we could both survey the simplistic beauty of this tiny corner of nature and of course man (sorry, wife) made nurture.
Next door, the children play quietly…yes, quietly, and I can hear the grass growing and the flowers knowing that the bees will come a courting. The gentle warm breeze caresses the forget-me-nots (I actually had a senior moment and forgot their names the other day) and they nod in gentle agreement that it is indeed a lovely day.
Then a silver bird flew over my nest.  It's silver belly glistening in the sunlight. Travelling at over five hundred miles an hour this technological tin can hurry's the voluntarily incarcerated occupants to some far off, sunny and sublimely crowded foreign place.
The test of my happiness in my situation is that I even feel sorry for them.  Not that I should; I guess they boarded willingly and clearly they want to go where the plane is bound, but here on the ground I am happy.  Do I want to join them?  No, and it is not because I think that I have made the right choice and them the wrong one.  It is mostly me.
I get grumpier as I get older.  Crowded airport terminals teeming with life anxious to be on their way to some distant Valhalla; excited children careering across the marble floors of a cavernous reception/check in hall; stressed parents wondering why the fifty or more families  in front of them are procrastinating and fussing so endlessly at the check in counter.
Many will have encountered crowded roads, trains or overdue taxis to get thus far. On the other side of security comes a wait that must be endured in some gravity pocket or event horizon where time is devoured and the inertia only countered by a racing mind eager to be free on those far away sands.  Where curiously time goes all too fast and the dark mirror image of a foreign concourse repeats the dose of frustration and wait.
I have ambled no more than fifty feet from back door to bench.  Not seen a soul and seated with no destination save that of where my mind travels.  True, I had to make my own coffee, but I didn't have to glare at the person in front for taking so long to be served.
If I could teleport to that silver bird and take a vacant seat, would I?
No thanks…time to chill with an already chilled beer.
I know where I'm bound…On  The Ground!